In 6 years of performing, I've done lots of crazy things. Booking a multi-set, multi-dancer show for an Indian wedding, on less than 48 hours notice, was definitely one of my more daring feats – but what can I say? I love a good creative challenge, and there's always something oddly Zen about spontaneous bookings. While I normally book weddings at least 3-6 months out, last-minute bookings can actually be a great exercise in customizing a beautiful and personalized show, without the self-imposed perfectionism that sometimes comes with getting to know a client over the better half of a year, and obsessing over exceeding their expectations. (All artists are crazy, and that's where I can get neurotic!)
Less than 2 days out, there's no time for nitpicking your musical selections. No time for Analysis Paralysis. You just get out there and knock 'em dead, and let the energy of the crowd take care of the rest.
When Raj called to book me for his sister Fatima's Tampa wedding, he explained that their wedding theme was "Indo-fusion" –  in other words, no kitsch, nothing over-the-top; just modern minimalist elegance, with a touch of bling. We agreed upon 2 15-minute sets; one being a contemporary belly dance show, the other being audience participation to popular Bollywood music. Raj loved the video from Vick and Tina's Wedding, so we did something similar – a shamadan (candelabra) entrance, wings, and a drum solo.
My dancer-friend Vanja, who is tons of fun to gig with and steals many hearts at Indian weddings, joined me once again for a dynamic duo. We loved performing in what looked and felt like a wonderland of pink and crystals. As for our costumes, we matched the room as if we had planned it months in advance! Naturally, the crowd loved getting up to dance with us, and our show added a unique touch of sparkle to a lively lineup of skits and Bollywood dances performed by the family.
This Tampa wedding goes to show that you can pull together a pretty nice wedding surprise at the very last minute. With a little bit of luck and the right cast of Tampa wedding entertainers, you just may end up with everything you're looking for and more.
Tampa Wedding Photographer Vadim of Vadim Photography surprised me with these gorgeous pictures today. Enjoy!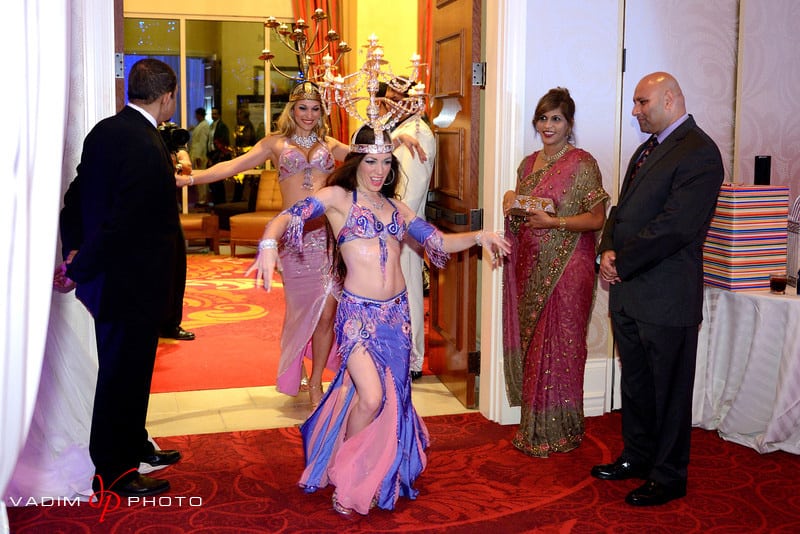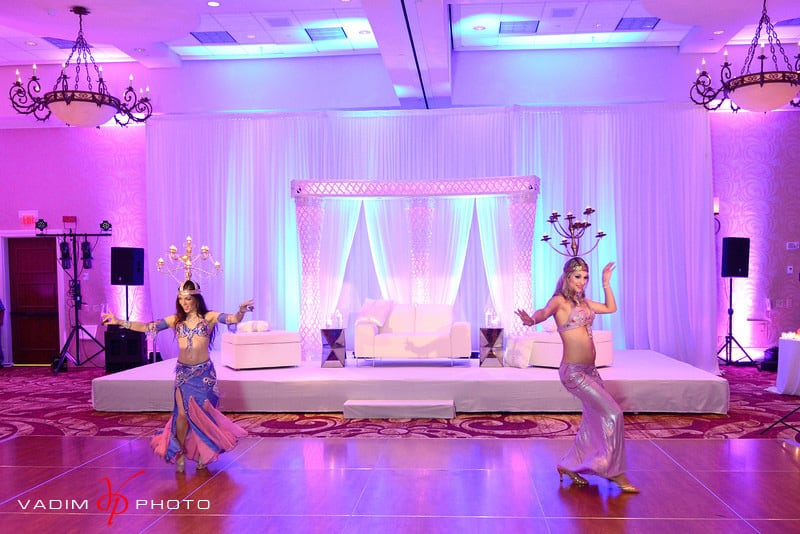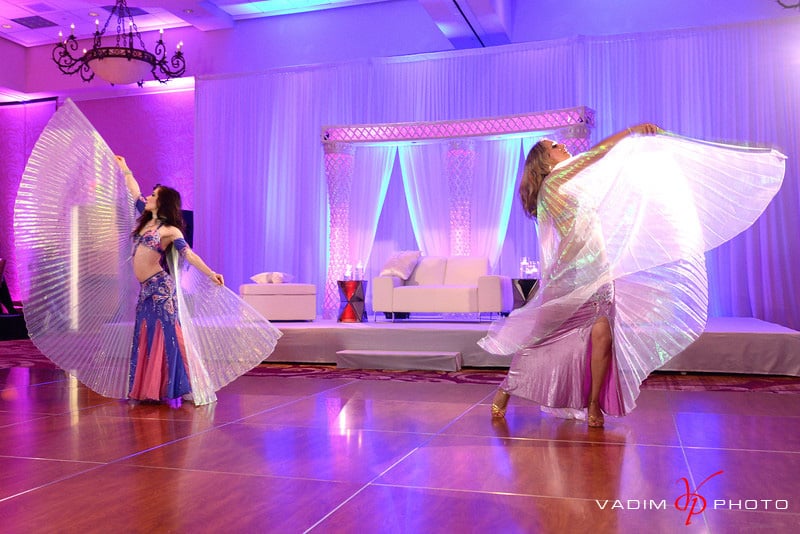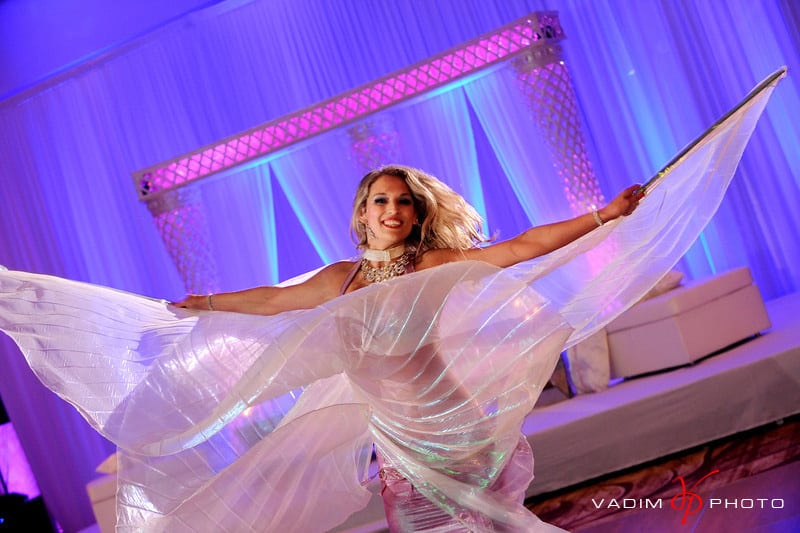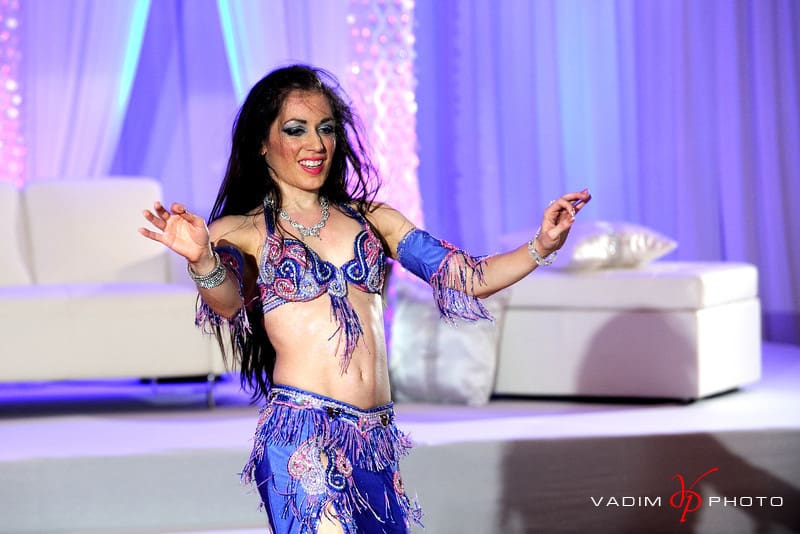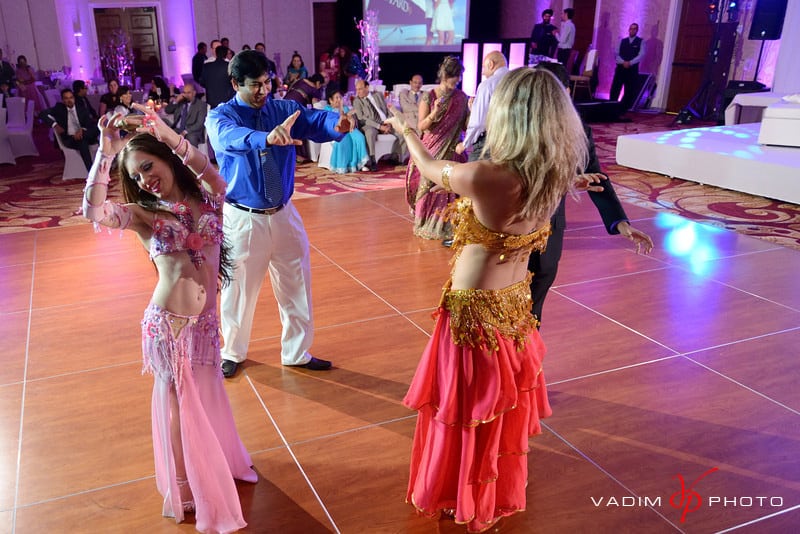 An extra-special thanks to a great crew of vendors, who were so fun and pleasant to work with:
Belly Dancer: Carrara Nour and Vanja (Orlando)
Venue: Tampa Renaissance Hotel
DJ: DJ Jaz/GTB Productions (Atlanta)
Decor: Occasions by Shangri-la
Uplighting: Get Lit Productions
Video: Bluepoem Studios (Miami)
Photographer: Vadim Photography (Tampa)
About Carrara: Carrara Nour is a professional belly dancer offering customized entertainment for weddings and elegant social events in Orlando, and beyond. For more information, check out her Weddings Page or find her on Facebook or Google Plus: Carrara Nour+