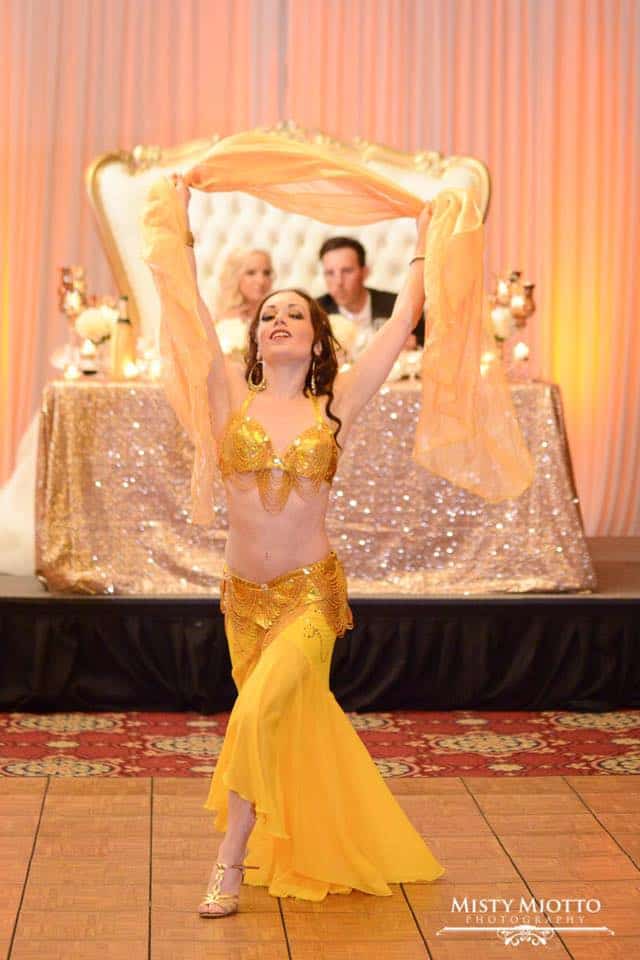 Belly Dancer for Weddings in Orlando



In the Middle East, no wedding is complete without a belly dancer! Whether belly dance is part of your culture or something fabulous and new, Carrara Nour will make your wedding sparkle with elegant wedding entertainment custom-crafted just for you. Classy and colorful costumes and props coordinated with your decor; a perfect music playlist created just for your crowd; lots of creative ideas and surprises – this is just the beginning of an unforgettable entertainment experience!
Your entertainment sets the tone for your entire wedding celebration, and nobody understands this quite like Carrara.  Imitated but never duplicated, Carrara's multicultural wedding expertise, "industry insider" status, and heartfelt excitement for all of her couples make her a local rock star and every bride and groom's best friend. When Orlando's top wedding professionals seek the best belly dancer for their couples, Carrara is the one they choose. Call today for your complimentary consultation, and experience the difference!
"I honestly don't even know where to start--'amazing' just doesn't seem like a good enough word for Carrara and her performance! Everything from the ease of payment, to song selection and her performance were flawless! I have already recommended her to several friends! Her performance really got the party started and my family and friends are still talking about what a great dancer and how adorable she is! Next party my family has, she will be there!!"
Enhance Your Orlando Wedding With Belly Dance:
There are so many different ways to integrate belly dance into your wedding and all the celebrations leading up to it. Here are a couple of Carrara's favorite ideas to make your wedding magical!
Reception Entertainment – Entertain your guests with a full-length (20-30 minute) belly dance show to kick off the party and transition flawlessly from dinner to dancing. You know those boring, cookie-cutter weddings where nobody dances and everybody goes home early? You'll never have to worry about that. 
Cocktail Hour – Let's face it – nobody ever knows what to do during that hour of down time between the ceremony and the reception. Make your cocktail hour a little less awkward and a lot more fun with a belly dance show! Your guests will enjoy plenty of photo ops and even learn a few new moves while they wait for you and your wedding party to make your grand entrance.
Grand Entrance/Zeffa – Loud, proud and absolutely fabulous, the zeffa (also spelled zaffa or zaffe) is a traditional Middle Eastern grand entrance that's making a big comeback! Carrara performs zaffas as a soloist or is able to work with Arabic musicians or drummers. Read more about it in Carrara's blog: All About the Zaffa. 
Wedding Ceremony – Did you know that you could have a belly dancer dance you down the aisle? While this option is far less common, one of Carrara's all-time fondest wedding memories involved dancing the bride down the aisle to the couple's favorite song. 
La Hora Loca – Cut loose and go crazy during the last hour of your reception! You don't have to be Latino to embrace this hot Miami trend. Carrara is available to perform solo or can partner with and/or provide additional belly dancers (or samba dancers, stilt walkers, or other performers) to create a mini Carnival at your wedding and send the party off with a bang. 
Rehearsal Dinners & Engagement Parties – Who says you have to save all the fun for your wedding day? A belly dance performance is the perfect way to break the ice and get everyone in the mood for celebration at your rehearsal dinner or engagement party!
Bachelorette Parties – If you're looking for unique bachelorette party ideas in Orlando, Carrara's got you covered! Pop a bottle of champagne and learn some sexy belly dance moves in the comfort of your home, hotel room, or other private party location. (For pricing and information on the Shimmy Party package, go to the Booking page, or check out Carrara's blog for pics from a real bachelorette party). Say no to the cheesy male revues and treat the Bride-to-Be to a party she'll remember forever!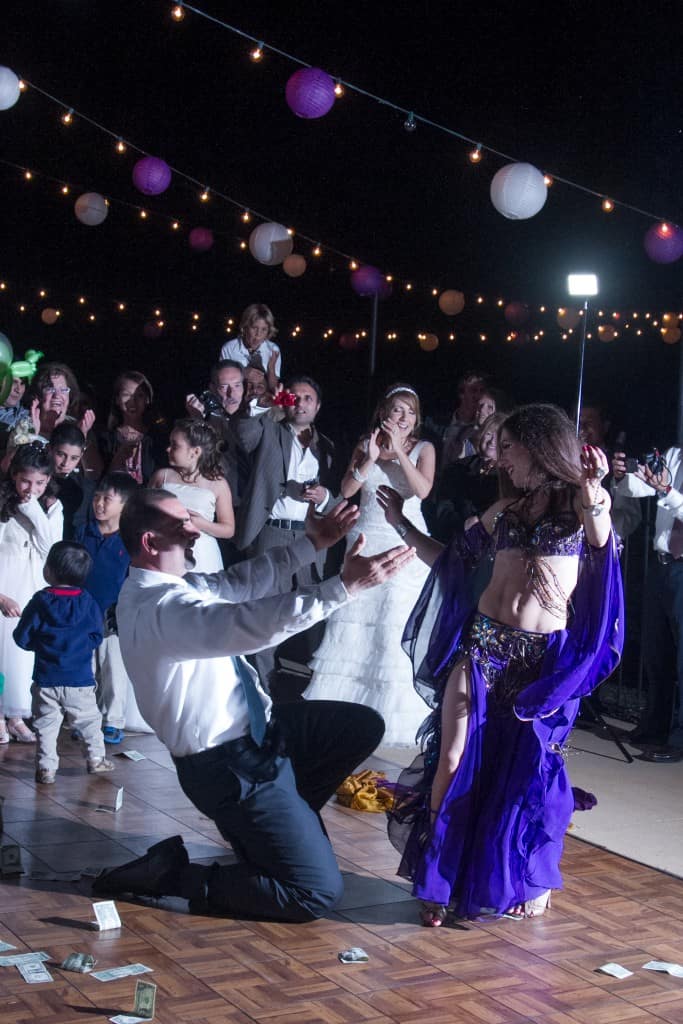 Did You Know…?
72% of couples wish they would have spent more time researching their wedding entertainment
During planning, couples say that their attire is their highest priority, followed by the venue and the caterer. Entertainment is among the least of their priorities. Within a week after the reception, 78% of couples said they wished they made entertainment their top priority!
When asked, 81% of guests said that entertainment was the one thing they remembered most about the reception.
93% of couples said they would have spent more money on entertainment.
Not all belly dancers are equal. Any dancer can buy a couple of costumes, create a web presence, and call herself a pro whether or not she's ready to perform at the professional level and handle milestone special events with care. In the age of influencers, blue check marks, followers and views are frequently bought. Google reviews can be staged. Talent agencies and "one-stop wedding shops" promise professional talent while sending amateurs out to work at their clients' once-in-a-lifetime events. Anyone can call herself a "wedding expert," with or without a proven track record or reputation in the wedding industry. There are no mandatory licenses, certifications, or industry regulations to protect couples from this misleading, bait-and-switch practice, but it goes on every day.
So how do I make sure I'm getting the best? The only way to make sure you're hiring the best entertainer for your event is to read reviews from previous clients on third-party websites, and watch live footage from previous weddings to see how she improvises in a real performance environment and interacts with a live audience. Most importantly, ask your other wedding vendors for feedback on any entertainers you might hire for your event. Click Here to read testimonials from previous brides and endorsements from Carrara's wedding industry colleagues. (For more information, check out Carrara's article The Connoisseur's Guide to Hiring a Belly Dancer).
*Sources for the first 4 statistics: St. Louis Bride & Groom Magazine, Simmons, USA Today, National Bridal Service, The Knot, Brides Magazine