About Orlando Belly Dancer Carrara Nour
Carrara Nour is a professional belly dancer in Orlando offering creative customized entertainment for weddings and elegant events. She is known throughout Central Florida for her refreshing blend of substance and style, her genuine joie de vivre both onstage and off, and her ability to engage a crowd while treating each client's special occasion with dignity and respect. But what makes Carrara truly a star in the Orlando wedding industry is her one specialty: performing at weddings, and making wedding dreams come true for each couple she works with.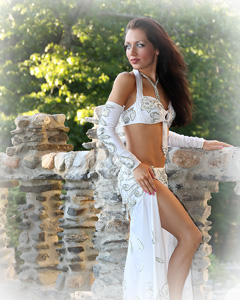 Born on New Year's Eve, Carrara naturally believes that life is a party! She brings this joyful spirit to each of her performances. From her fun-loving improvisational style to her knack for getting even the shiest audience members up to dance, Carrara embodies the real essence of belly dance as an exuberant dance of the people and a celebration of life. Onstage, Carrara exudes grace, femininity and a charming sense of humor as she effortlessly connects with her music and the crowd. Both approachable and glamorous, Carrara is a quintessential crowd pleaser you can trust to bring out the best in every occasion and enliven every crowd.
Before Carrara moved to Florida in 2011, she began her performing career in Fairfield County, Connecticut, where she discovered her natural gift for bringing people together through Middle Eastern music and dance. Like many Northeast belly dancers, including her earliest mentors Adina (CT) and Careesah (CT), Carrara has a well-rounded Pan-Arabic repertoire, and a deep appreciation for the classics. Her background includes Lebanese, Turkish, Golden Age Egyptian, Greek and American Vintage styles of belly dance, along with regional folk dances from the Middle East. Dancing since 2003, Carrara continues her education in Orlando and beyond through workshops, seminars and intensives with many of the top names in her field, as well as careful observation of her Arab friends dancing in casual situations. Carrara's heartfelt love of Middle Eastern music and culture make her not just another Orlando belly dancer, but a positive ambassador for a beloved cultural art form.
Want to learn more about Carrara and her art? Click the link below to see a clip from a television appearance in Hartford, CT!
Carrara Nour is extremely professional, fun, well spoken, and of course a wonderful dancer. My event was a work party to promote the National Geographic book, Tales from the Arabian Nights. Carrara contacted me several times to make sure she understood exactly what I wanted and made great suggestions about the performance. She graciously agreed to speak to my guests about the origins of the dance. I highly recommend making this a part of your event.

She showed up exactly on time and did everything we asked and more. She charmed our entire audience. I would hire her again in a heartbeat!

– Laurie J.H.
National Geographic

Hire Carrara for Your Event!
Life is full of special occasions, and belly dance makes any celebration much more fun! Carrara is available for all family-friendly events, including:
Bridal Showers, Bachelorette Parties, Baby Showers, "Girls' Night In"
Corporate Events and Trade Shows
Birthday Parties
Moroccan or Arabian Nights Theme Parties
Bar/Bat Mitzvahs, Quinceañeras, Sweet 16's
Anniversary Parties
Country Club Events
"Just Because!"
Ready to get started? Head over to the booking page where you'll find plenty of performance options and pricing info! Intrigued by the art of belly dancing? Want to learn some cool party trivia about belly dance and the culture it comes from? Check out the fabulous educational resource Shira.net!