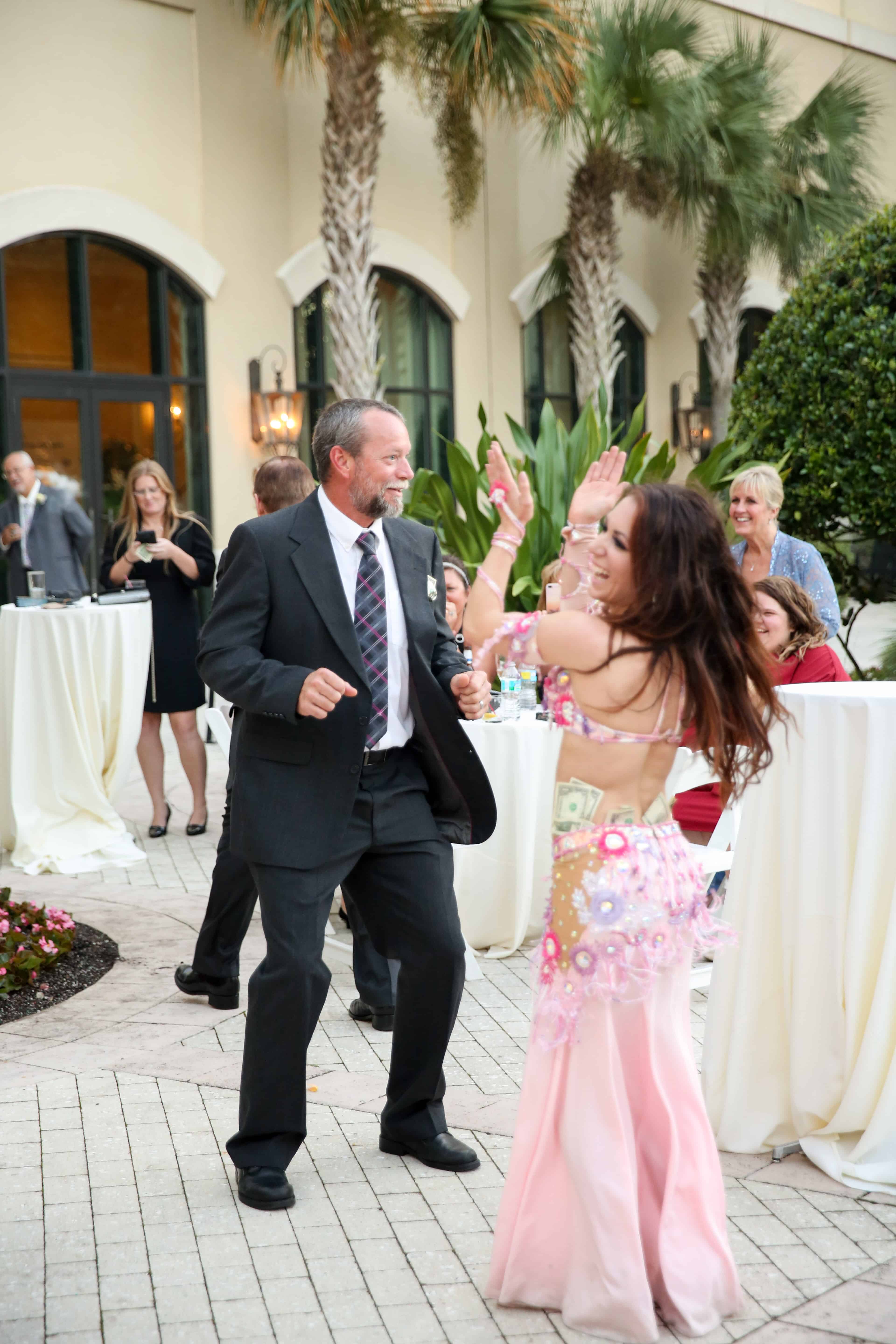 Your Adventure Awaits! Hire an Award-Winning Belly Dancer in Orlando
Which form of party entertainment is popular all around the world, has been around for hundreds of years, and keeps getting hotter and hotter? The answer, of course, is belly dance! The festive ring of finger cymbals. The sparkling costumes, sword balancing and swirling silk veils. Something about the music makes you want to shimmy to the beat. You, too, can bring the magic of Middle East to your event! Whether you're looking for authentic entertainment for an Arab wedding, or a birthday surprise for your best friend that has everything, Carrara will spice up your special event in a classy and fabulous way.
No two events are exactly alike, so there's nothing "cookie-cutter" about Carrara's belly dance shows. You and Carrara will discuss the details of your event until everything is perfectly on point, from her playlists to her costume to the level of interaction with your crowd. Onstage, Carrara will expertly engage the crowd, knowing when to up the ante, when to dial it back, and which guests to put in the hot seat. We guarantee you'll get a show that's everything you're dreaming of – and then some!
"Carrara Nour is extremely professional, fun, well spoken, and of course a wonderful dancer. My event was a work party to promote the National Geographic book, Tales from the Arabian Nights. Carrara contacted me several times to make sure she understood exactly what I wanted and made great suggestions about the performance. She graciously agreed to speak to my guests about the origins of the dance. I highly recommend making this a part of your event. She showed up exactly on time and did everything we asked and more. She charmed our entire audience. I would hire her again in a heartbeat!"
Pricing for Belly Dance Shows in Orlando
These are Carrara's most tried-and-true performance offerings for weddings and events. (All are totally customized to your event and include 10-15 minutes of photos with guests after the show). Prices below reflect the average performance in the Orlando metro area within one hour's drive each way from East Orlando. **Bookings out of town, after 10:30 pm, within 24 hours of the event, or on major holidays will incur additional fees. Do you have something in mind that's not on this page? No worries! Carrara will be happy to create a custom quote for you.
Classic Show 
Starting at $325 (Approx. 20-25 mins)
The Classic Show is perfect for any occasion! This complete performance set features a mix of crowd-pleasing audience participation and jaw-dropping dance routines with props like wings, finger cymbals and sword. Get your camera ready. This show is filled with fabulous photo ops!
Ultimate (2-Part) Show
Starting at $600
Pull out all the stops with an extravagant 2-part show! The Ultimate Show dazzles with 2 complete and coordinating 20-minute shows and a costume change for maximum glamour. Pro Tip: This option is perfect for weddings! For a nonstop party atmosphere, try one set to liven up your cocktail hour, and one after dinner to kick off your reception.
Shimmy Party

Starting at $350 (Workshop) / $400 (Workshop Plus Mini-Show)
Shimmy, shake and strut your stuff, all while learning authentic belly dance moves from a pro! A Shimmy Party is perfect for bachelorette parties, bridal/baby showers, or a fun night in with your girlfriends. This ultimate Girls' Night In consists of a 45-minute belly dance class guaranteed to bring out everyone's inner goddess. Coined hip scarves are provided for guests to wear during class. Pro Tip: Add a 10-minute mini-show to set a glamorous mood for the evening's festivities!
Belly Dance Duo or Trio Show

**Inquire for pricing
Sometimes, two or more dancers are better than one! A multi-dancer show is a great way to fill a large performance space and add visual impact. Pro Tip: Carrara's dance team consists of talented, beautiful dancers with high-end professional costumes. We never contract out cheaper amateur performers, and we can assure you that your show will be worth every penny!