Hire an Award-Winning Belly Dancer in Orlando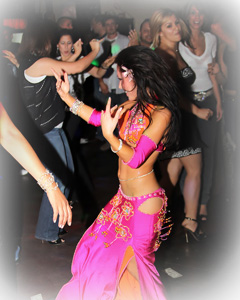 Treat your friends and family to an exotic adventure and a feast for the senses! The festive ring of finger cymbals. The sparkling costumes, sword balancing and swirling silk veils. Something about that music makes you want to shimmy to the beat. Whether you're looking for authentic entertainment for an Arab wedding, or the perfect birthday surprise for your best friend that has everything, Carrara will spice up your next party in a classy and fabulous way!
No two events are exactly alike. Naturally, there's nothing "cookie-cutter" about Carrara's belly dance shows. You and Carrara will obsess over the details of your event until everything is perfectly on point, from her playlists to her costume to the level of interaction with your crowd. You'll get a show that's everything you're dreaming of – and then some!
You were fantastic! Everyone enjoyed your performance. Everything came together perfectly for our Moroccan style evening. I can still feel the energy of the evening. Wish I could go back to Saturday night.

– Chris S. (CT)
Pricing & Options for Orlando Belly Dance Shows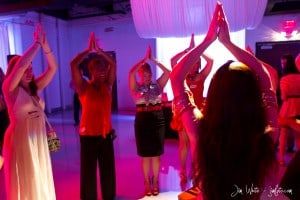 Let's get this party started! Please review this section and Carrara Nour's FAQ for everything you need to know before you book a show. Have something different in mind, such as a longer or shorter set, a duet or trio show, or atmospheric entertainment for a corporate event? No problem! Ask Carrara to create something special just for you.
Classic Show
Starting at $225
The Classic Show is perfect for any occasion! This complete 20-25 minute show features an enchanting mix of dance routines, typically including traditional props such as wings, finger cymbals, veils, cane and swords. The show includes plenty of audience participation centered around the Guest/s of Honor and group dancing for everybody else who wants to join in on the fun! Get your cameras ready. This show is filled with Instagram-worthy moments!
Ultimate (2-Part) Show
Starting at
$400
Feeling fancy? Entertain your guests on a grander scale with an extravagant 2-part Ultimate Show. This dramatic number dazzles with 2 complete and coordinating 20-minute sets and a costume change for maximum glamour. This option is perfect for weddings! For a nonstop party atmosphere, try one set to liven up your cocktail hour, and one after dinner to kick off your reception.
Shimmy Party (Perfect for Bachelorette Parties!)
Starting at $250 (Workshop) / $300 (Workshop Plus Mini-Show)

Shimmy, shake and strut your stuff, all while learning authentic belly dance moves from a pro! A Shimmy Party is a fabulous choice for bachelorette parties, bridal/baby showers, or a fun night in with your girlfriends. This ultimate Girls' Night In consists of a 45-minute class, with the option to add a fully-costumed 15-minute show. Guaranteed to bring out your inner goddess!
"I had the great pleasure to work with Carrara Nour for an internal cultural event organized by Unilever. Not only is Carrara a great performer, she also is able to very eloquently articulate historical and educational aspects of her craft, which can inform and captivate an audience, making the experience more meaningful. Her extensive network of artists also provides an ensemble of connoisseurs that are able to participate along with Carrara for a complete event."

– Jorge L. Cardenas, Unilever