Hire a Belly Dancer in Orlando
The festive ring of finger cymbals. The sparkle of colorful, jewel-encrusted costumes and swirling silk veils.  The room comes to life with exotic sights and sounds.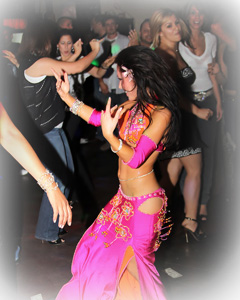 There is a sense of excitement in the air that makes you want to get up and dance! Be it a showstopping spectacle or a simple-yet-elegant icebreaker, a custom show by Carrara Nour brings the vibrant beauty of Middle Eastern dance to your wedding, corporate function, birthday party or social event.
No two events are exactly alike. Naturally, there's nothing "cookie-cutter" about Carrara's belly dance shows. She will work with you to plan your ideal entertainment right down to the finer details, fully tailoring her music, costuming, and audience participation style to fit your venue, your group and your goals. The end result is a chic belly dance experience that will leave your guests raving long after the party's over!
You were fantastic! Everyone enjoyed your performance. Everything came together perfectly for our Moroccan style evening. I can still feel the energy of the evening. Wish I could go back to Saturday night.

- Chris S. (CT)
Sample Pricing & Options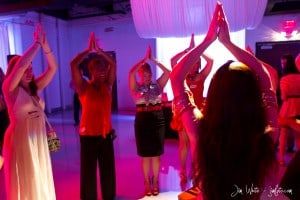 Ready to hire a belly dancer in Orlando? Please review this section and Carrara Nour's FAQ for everything you need to know before you book a show. Pricing depends on the date/time, location, complexity and duration of a show, as well as the number of dancers requested. Sample prices listed below represent a simple one-dancer show in the Orlando area. All show options are fully customizable. If you have something different in mind, ask Carrara to create something special just for you!
Classic Show
Starting at $225
The Classic Show is perfect for any occasion! This complete 20- 30 minute show features an enchanting mix of specialty dance routines, often including props such as finger cymbals, veils and swords, and ending with plenty of audience participation centered around the Guest of Honor and anybody else who wants to join in on the fun! Great for birthday parties, Moroccan or Arabian theme parties, anniversaries, graduations, bar/bat mitzvahs, quinces, Sweet 16′s, country club events, or "just because."
Ultimate (2-Part) Show
Starting at
$350
Entertain your guests on a bigger scale with an extravagant 2-part belly dance show. The Ultimate Show puts the main focus on flashy entertainment with 2 complete and coordinating 20-minute sets and a costume change for maximum glamor.
The "Mini" 
Starting at $200
Between 5-10 minutes in length, the "Mini" packs lots of surprises and Kodak moments into a short-and-sweet show. The Mini is a great choice for birthday greetings, small gatherings, office surprises, and times when less is more.
Shimmy Party (Perfect for Bachelorette Parties and Girls' Night In!)
Starting at $250 (Workshop) / $300 (Workshop Plus Mini-Show)

Shimmy, shake and strut your stuff, all while learning authentic belly dance moves from a pro! A Shimmy Party is a fabulous choice for bachelorette parties, bridal/baby showers, or a fun night in with your girlfriends. This package consists of a 45-minute class, with the option to add a fully-costumed 15-minute show.
Weddings
Starting at $225

Weddings are Carrara's specialty! Whether you're looking for interactive entertainment for your cocktail hour, or a 2-part show with a costume change and live music, Carrara will customize an entertainment experience that's totally you. Because various factors can cause a wedding to run a little behind schedule, all of Carrara's wedding bookings allow extra timing flexibility for your peace of mind. For more ideas, check out Carrara's Weddings page!
Charity and Community Events
Carrara donates her services at a discount or pro bono approximately once per quarter for benefits, fundraisers and local events for the Orlando arts, fashion and culture community. Organizations she supports include Wish Upon a Wedding Orlando, the Chris Kirkpatrick Foundation, and The Red Chair Project. Please inquire for details and availability.
"I had the great pleasure to work with Carrara Nour for an internal cultural event organized by Unilever. Not only is Carrara a great performer, she also is able to very eloquently articulate historical and educational aspects of her craft, which can inform and captivate an audience, making the experience more meaningful. Her extensive network of artists also provides an ensemble of connoisseurs that are able to participate along with Carrara for a complete event."

– Jorge L. Cardenas, Unilever
Service Area
Carrara is based in Orlando, and frequently performs in Daytona/Volusia County, Brevard County and the Tampa/St. Pete/Clearwater area, as well. She is also available to perform in Connecticut (CT) with sufficient notice. Extended travel fees may apply.