So you've been planning your wedding over the last year, and you're ready to book your entertainment.
You've decided on a 2-part show with a costume change, one set modern Egyptian and one traditional folkloric style. You've agreed on a price, reviewed musical requests, and are ready to call it a day and forget about it until – STOP!
I just want to make sure you got that all in writing.
If not, or if you're wondering why you need to, this post is for you.
Contracts are one of those unsexy things like rates that I don't really like to blog about – but, at the same time, they're a fact of life in today's society, and they're totally essential. A few key pointers on dotting your i's and crossing your t's. (Disclaimer: I am not a lawyer, and this post contains no actual legal advice – just a bit of clarification on the main things you'll see in a belly dancer's performance contract.)
Get it All in Writing:
A verbal agreement doesn't count! Get your belly dancer to put everything in writing – date, time, location, type of show, etc. If she refuses, or insists on working without a contract, then find another belly dancer. Period. Any responsible wedding vendor, be it a florist, a photographer, or someone who makes little bride and groom outfits for your dogs, will use a contract to cover YOUR butt as well as their own, by getting all the responsibilities, expectations and "what-if's" of their services on paper. A dancer who works without a contract is not under any sort of legally binding agreement to show up at your event. In other words, if the dancer flakes on you for a better opportunity (like a hot date), then you have no protection.
Double-Check for Silly Mistakes:
I'm about to overstate the obvious, but once you get a contract and fill out the required fields for date, time and location, please make sure to double-check for accuracy. (I highlight all those fields in yellow on my contracts so you can't miss them!) One dancer, who shall remain nameless, was shocked to show up at a wedding venue, 45 minutes early and ready to dance, only to walk into an empty ballroom and find that the event was actually scheduled for the next day. Turns out the client had given her an incorrect date through a lead-generating site, missed several references to the incorrect date in their ongoing email communications, and even signed a contract with the wrong date. Yikes! While these types of errors almost always get picked up long before anyone signs a contract, they can and do happen, and it's easier to double-check for human error than it is to deal with the mess of letting a major mistake go unnoticed.
Cancellations: Understanding the "What-If's"

In envisioning the perfect event, you don't want to think about the possibility that you (or your belly dancer) might have to cancel. Let's say a family emergency comes up and you've had to change the date of your wedding. Or, the dancer has to go in for emergency surgery the night before your wedding. Or, you've decided you'd rather have an extra ice sculpture than a belly dancer. Will you get your deposit back? If you cancel on short notice, will you have to pay the dancer in full? Will the dancer help you find a replacement, if she's the one who has to cancel? These should all be in the dancer's contract – read them carefully.
Late Fees
Lateness is a fact of life at many events. (9 out of 10 weddings runs late, even with a planner, so I build a reasonable fee into my wedding prices to allow me to ease up on late fees). Yet, with so many people to see and things to do, it is still important to keep your vendors on time – especially entertainers, who often have more than one booking in a night. Keep a dancer waiting and you may incur late fees. So take a moment to review this section on a dancer's contract and avoid "surprises" later!
Encore Performances and Diva DJ's: Extended Stays and Minding the Music
Sometimes, a dancer might end up on the dance floor longer than she'd bargained for. Whether you wish to hire the dancer on the spot for a second set, or a sneaky DJ decides to add tracks or replace the dancer's music with his own tracks, the dancer will most likely have policies in place for extended performances. If you think either of these will be a concern, then ask your dancer to cover these in her contract. My contract includes a fee schedule for additional songs/sets, and a clause for sets that are extended by diva DJ's.
Seek Clarification:
Our contracts are designed to be clear, readable and helpful, not unnecessarily confusing or intimidating. However, if anything doesn't make sense, then ask the dancer for clarification! It's better to ask and feel silly than to let a simple misunderstanding cost you time and money.
Any questions?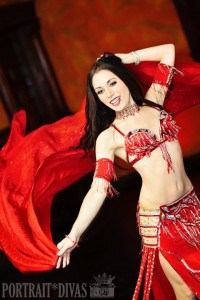 About Carrara Nour: Not a lawyer and doesn't even play one on TV, Carrara Nour is an Orlando-based belly dancer offering custom entertainment for weddings and glamorous events. For more information, check out her Weddings Page or find her on Facebook or Google Plus: Carrara Nour+