A few months ago, I read a brilliant article called "Free DJ," shared by one of my Orlando wedding industry friends, DJ Kristin of Our DJ Rocks. In the article, modified from a piece by Scott Shirley, a fictitious bride quickly learns that the DJ costs nothing, but there's a price for everything else s/he brings to the table.
It's a conversation I wish I could realistically have with some brides who call. After all, the belly dancer herself is free. As for everything else? Let's see how this hypothetical scenario plays out.
Bride: I'd like to hire a belly dancer for my wedding. How much will that cost?
Me: The belly dancer is free.
Bride: Excellent! What next?
Me: Hang on, let me go get my boyfriend to grab his iPhone. Then, I will start dancing and he will videotape me. I will text you the video when we're done. Hope you don't mind I'm in my PJ's right now. Oh, and my kitchen is a disaster area because we're re-modeling…
Bride: Wait a minute. You mean, you don't come to my location the day of my wedding?
Me: Well, I can, but that will cost money.
Bride: Well, that makes sense. Gas prices just keep going up, and there are so many tolls in Orlando.
Me: OK, so I'll just drop by your reception venue after class and start dancing. I will be wearing yoga pants, but hopefully there will be time to powder my nose and swipe on some lip gloss.
Bride: You're not coming on costume? I thought all belly dancers wore some sort of costumes.
Me: I have a closet full of professional costumes, most of which cost around $800 and up. But just like cars, they incur quite a bit of wear and tear through regular use, and sometimes require repairs or replacement. That costs a lot of money.
Bride: I understand. You can't have a belly dancer without the bling! But why can't you just wear cheaper costumes? Or just buy one costume and wear it to all your gigs?
Me: Let me ask you this: what are your bridal colors?
Bride: We're going for a peacock theme – blues, greens, purples and golds.
Me: Lucky for you, I have at least 3 costumes in those color schemes for you to choose from! I try to keep my wardrobe collection pretty diverse, color-wise, so I can coordinate with pretty much any palette.
Bride: Wow, that IS pretty cool. Do you dance with any sort of props?
Me: I can perform with all the traditional props, like veil, sword, cane and shamadan, and I do many of the newer fusion props, too, like fanveils, Isis wings and fire tray. I also play finger cymbals. I own a full collection of these props and can incorporate any of them into my show. Everything is customized just for you. So tell me a little bit more about what type of show you have in mind.
Bride: Well, I'm Italian and Irish and my fiance is Egyptian. We'd like to surprise our guests with a belly dance performance as a nice tribute to his heritage, and to show my side of the family something cool and unique from his culture. We also want you to get everyone out on the dance floor, having a great time.
Me: So basically, you're looking for a belly dancer who has done enough Egyptian gigs to know what style of dancing will really resonate with her audience, what the Egyptian wedding traditions are, and which songs will get both the older AND younger guests out of their seats and dancing. You will also need an experienced entertainer who has performed plenty of private events and knows how to "read the room" and interact with the crowd. Lucky for you, I've invested in my own training and I've done tons of weddings and parties for American and Middle Eastern crowds, and I think I can put together a show that will really make your fiance's family happy. And your family will love it, too.
Bride: Great! I think my fiance wanted me to ask you something about this thing called a zeffa?
Me: Yes! That would be a great choice. It's a traditional wedding procession, led by a belly dancer balancing a candelabra called a shamadan to symbolically light the way for the newlyweds. If you want a belly dancer who knows what a zeffa is, what drumbeat it's done to, and how to pull off all the logistical details, then just ANY belly dancer won't do. They don't always teach a whole lot about the juicy cultural stuff in regular weekly classes. You will have to find somebody who's continued their education through special advanced workshops. And in belly dance, as with any other field, specialized expertise costs more.
Bride: Yikes. Well, I guess that's my only choice. So I'm getting married the second Saturday of November…
Me: Well, since your date is on a Saturday during Orlando's peak wedding season, I'm afraid there won't be any flexibility in my price. Now, were you getting married on a Tuesday in July, I might have been able to help you out a little bit. But I'm sure you probably heard this spiel from the venue staff, the DJ and the photographer, so I'll spare you.
Bride: OK, I think I'm gonna bite the bullet and hire you. Now, you ARE the dancer who will perform at my event, right? You're not going to send some student out in your place? And you actually WILL show up and do exactly what you're told, right?
Me: If you hire an inexperienced student dancer, there's a good chance that they might flake on you if a better opportunity comes along, like a date with a cute guy. If you want a dancer who takes this seriously, you must pay professional rates. I never work without a contract, for your protection as well as mine. And no, I don't think it's cool to use weddings as "on the job training" for eager students. The only surprises you'll get when you work with me are pleasant ones!
Bride: I never knew a belly dancer would cost so much!
Me: The belly dancer herself is free. You're paying for quality, custom preparation, and expertise.
Bride: OK, let's do this! I want to hire a professional belly dancer.
Me: A professional belly dancer in Orlando will do your wedding for $200 or more. Do you want an experienced professional belly dancer who specializes in multi-cultural weddings? That costs even more!
Bride: MORE than $200? That's way more than I'd like to spend. I think I'll just find someone who will do it for free.
Me: I only know one person who does this, and that person is a fictitious belly dancing cat named Couscous. I can pass you her information if you'd like.
Aren't you glad you asked?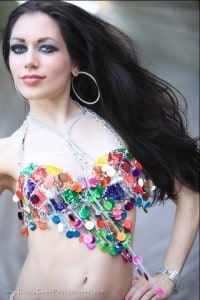 About Carrara Nour: Carrara is a professional belly dancer offering elegant, authentic entertainment for weddings and social events in Orlando, Central Florida and beyond. To book Carrara for your wedding or party, check out her Booking page, and don't forget to follow her on Twitter @CarraraNour and Facebook.