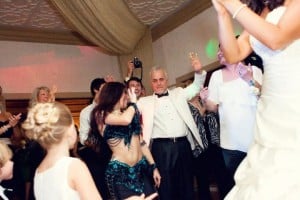 Florida is often referred to as the New York of the South, for good reason: in the Metropolitan areas, you will find a melting pot of people. Having recently transplanted from the Greater NY area, I especially find this to be true. In the past 6 months, I've entertained Egyptian, Moroccan, Turkish, Indian and mixed Arab crowds, as well as American groups. This diverse multi-cultural mix makes me feel very much at home! Personally, I'm from a mixed background and my own absence of a true cultural identity has made me especially fascinated by other families' customs.
This past year, wedding bloggers have cited multi-cultural entertainment as one of the biggest up-and-coming special event trends. After all, the world is getting smaller, and many Orlando brides and party planners love to personalize their events with a "slice of life" from their own cultural background, or a country they love from their own personal travels. Or if you're newly engaged and you or your fiance/e are Middle Eastern, a belly dance show can be a touching way to honor your family or your new spouse's family's traditions.
Multi-cultural entertainment brings back memories of home, piques the imagination, and in many cases, builds bridges between different and disparate cultures. This goes both ways. My audiences get something more out of my shows than good dancing, and I get something much deeper out of my audiences than applause and appreciation. Beyond sheer entertainment value, belly dance can provide an enlightening cultural experience that brings people together.
In September, I had the privilege of performing at a Moroccan dinner party hosted by a Zak, a doctor in Orlando. He belongs to a charity group that donates to the arts, and as a raffle prize, he gave the winner a lavish, home-cooked Moroccan dinner in his Orlando home. The guests were all well-traveled American businesspeople and artists, most of whom had been to the Middle East and loved the culture. To my surprise, I was asked to perform two sets to live music by the musical duo from the Moroccan pavillion at EPCOT! I performed outdoors in a cozy tent, with Oriental rugs underfoot, palm trees swaying, and the sounds of the oud, qanun, and darbuka filling the night sky. The Moroccan guests sang along, the Americans tapped their feet in time with the music, and for a moment, I forgot where I was and felt like I was among family. The guests were thrilled by the whole experience.
After I had finished dancing that night, Zak and his family treated me to a homemade Moroccan feast. (They refused to have it catered because they wanted it to be totally authentic!) I had bastila, Moroccan-style beets and carrots, slow-cooked lamb so soft it practically melted, and couscous with roasted chicken and vegetables. In between my sets and after my show, Zak's family taught me everything I needed to know about Moroccan cooking and social customs, and a few simple words and phrases in Arabic.
The next day, I actually felt depressed that it was all over! I fell in love with Moroccan hospitality that night, and I know all the guests did, too.
I have had many other enriching cultural multi-experiences and could write The World's Longest Blog if I had the time. But you probably understand what I'm getting at right now. Multi-cultural entertainment is more than just a show. Even if you're not Middle Eastern, you can have an enlightening cultural experience at your Orlando wedding or party. If your guests are cultured, well-traveled or simply adventurous and love to try new things, an authentic belly dance show will give them something to remember for years to come.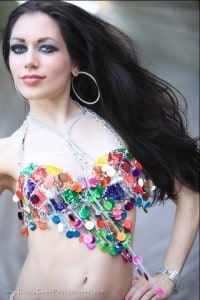 About Carrara: Carrara is a professional belly dancer offering elegant, authentic entertainment for weddings and social events in Orlando and beyond. Multi-cultural weddings are her specialty! To learn more, check out her Booking or Weddings page, or follow her on Facebook.