November is here, and while all my Yankee friends back home are slowing down, business is picking up in my new Florida home! Fall is a pretty busy season for parties here.
This past Saturday was no exception! I did not one, but two fabulous 40th birthday parties, and each was totally fun and unique in its own right. A quick recap of the weekend's events, to hopefully inspire your next milestone birthday celebration:
Rolanda's Surprise 40th Birthday at City Tropics Bistro in Indialantic:
This crew had such a bad case of Booty Shake Fever, it's a good thing they were "quarantined" in the wine cellar room! All joking aside, these guys were my dream audience – fun, crazy, classy and totally interactive throughout every minute of my show. A belly dance show can be the perfect gift for someone who loves to dance, and you've gotta hand it to a great guy like Jeff G. for being a thoughtful hubby and arranging a lovely surprise for his beautiful wife Rolanda! Her eyes lit up like a pinball machine from the moment I entered the room, and she barely sat still throughout the show. I didn't have to twist her arm to join me in a shimmy at the end of the show, and when I gave her a hip scarf as a gift, she rocked it proudly! Her girlfriends, mother, and even some of the guys weren't shy either!
This gig posed a few unique logistical challenges, as the venue's restrictions prohibited me from dancing with swords and candles (two all-American crowd pleasers), and space was too tight to use Isis wings elegantly. But I really didn't sweat it, because 1. you've gotta play by the rules, and 2. you don't have to be a circus to be entertaining. Plus, I quite enjoy the occasional test of showmanship. With finger cymbals a-blazin', a short veil dance to an upbeat version of Misirlou (a Greek classic every American crowd knows, from Pulp Fiction and Black-Eyed Peas!), a samba-flavored drum solo, a healthy dose of humor, and a whole lot of audience participation, we kicked it old school and hit the ball out of the park!
Devinder's Punjabi Party at Tabla Bar & Grill in Orlando
It's a good thing I had two hours to rest up and conserve energy while I got from Indialantic to Orlando, because if I've learned anything from my huge Indian following, I've learned that they LOVE to dance. In fact, I tend to structure my shows around this, and allow for lots of open social dancing whenever I perform for an Indian group! What can I say? I can always count on an Indian party to be lots and lots of fun.
Devinder's family came in from Boston, Chicago and Fort Lauderdale to celebrate his 40th birthday party at Tabla Bar & Grill, a gorgeous Indian restaurant in Orlando with its own on-site banquet facilities. Even late at night, this place was bustling with activity – a Sweet 16 was going on at the same time as the birthday party! Guests came and went in glamorous designer sarees. I never would have expected this from a restaurant tucked inside a strip mall in a back road off Universal.
My performance immediately followed a bhangra routine performed by some of the boys (I'm bummed that I had to miss it!) I wore shimmery blues to match the blue decor and uplighting. My belly dance show featured a lively entrance with finger cymbals, a sword dance per the family's request, a drum solo, and LOTS of audience participation to Bollywood classics to engage the entire crowd. By the end of the show, everyone was elbow-to-elbow on the dance floor, the guys were showing off their flashy moves (watch out, Sharukh Khan!), and the girls even taught me a few new Punjabi moves!
This party was made possible by a dream team of vendors, including DJ Mohit and Tabla Bar & Grill, who were a true pleasure to work with!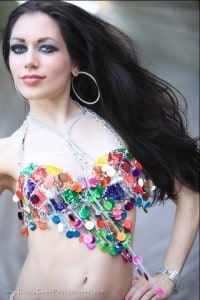 About Carrara: Carrara is a professional belly dancer offering elegant, authentic entertainment for weddings and social events in Orlando and beyond. Multi-cultural weddings and events are her specialty! To learn more, check out her Booking or Weddings page, or follow her on Facebook.