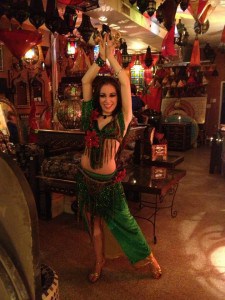 Yeah, I know. It's Black Friday, and I'm about to sound like everyone else encouraging you to buy something this Christmas. How cliche of me. But as today marks the unofficial start of the Holiday season, it only feels appropriate to talk about why a fun, family-friendly belly dance show might make a great addition to your Christmas party this year.
Lend me your ears, sparkle fans! Here are my personal Top 5 reasons to give the gift of belly dance this Christmas:
1. It's Sparkly and Festive: Let's face it: the Holidays are no time for subtlety. You've decked the halls (and the walls, and the tree) with yards of tinsel and glittery decorations. Why stop there? Extend the holiday glamor from your decor to your entertainment with a festive belly dance show. Belly dance offers a visual feast at its finest, with shimmering silks, flickering candles and glittering fringe galore. And bonus! Many professional belly dancers own at least a red, green or gold costume.
2. It Beats a Grab Bag, Any Day!
Are your friends hard to shop for? For the same price as buying a small, modestly priced gift for each one of your friends, you can throw an amazing party, with fun, interactive and festive entertainment to give them something to talk about.
3. You Can't Ask for a Better Icebreaker – Most of us don't hang out with just one circle anymore. I certainly don't! Between your close friends, your neighbors, your co-workers, out-of-town buddies, and their kids and significant others, there's a good chance that not all of your guests will know each other, or might not have seen each other since your last holiday party. What I love about being an entertainer is that I get to create bonds between people that have never met, and get everyone mingling and making friends on the dance floor. If that's not the Holiday Spirit, I don't know what is!
4. It's a Great Way to Relax and Unwind – You've been shopping, cooking, baking and decorating since before Thanksgiving. Belly dance shows are often highly interactive (at least, that's the way I like 'em!), and a mini-lesson at the end of the show can create a great opportunity to cut loose and unwind while learning some new moves. For maximum pampering, and to burn off some of those Holiday calories, consider treating your girlfriends to a Girls' Night In with a full-length belly dance workshop and mini-show!
5. Just Because! – Do you really need a reason to do something fun and unexpected to make your guests happy this Holiday season? Belly dance might not be quite as traditional as carolers or a jazz band, but your guests will thank you for doing something totally different from every other party they've attended this holiday season.
And don't forget, belly dance is also great for New Year's Eve parties! ;)
Are you looking for an Orlando belly dancer for your holiday party? I can help with that! Check out my Booking Page for information. Weekends before Christmas fill up fast, so call today and book your show! (Note: Holiday rates apply for most professional Orlando belly dancers on Christmas Eve, Christmas Day, and New Year's Eve.)