This past Sunday night, I had the pleasure of attending an awesome presentation for Orlando wedding professionals by Randy Fenoli from TLC's Say Yes to the Dress. Many of you were there. During Randy's Q&A, the wedding planners and bridal salon staff began brainstorming ways to make each other's lives easier. That all got me thinking…
I'm HUGE on teamwork and thought it would be a great idea to write a series of posts with insights on what belly dancers do, what type of brides we dance for, and the general logistics of our shows. Hopefully, this will help us work together more efficiently as we plan unique, multi-cultural entertainment for our brides.
In this post, we will focus on the very basic idea of hiring a belly dancer in the first place. Many wedding vendors aren't fully aware that hiring a belly dancer is an option for American weddings. I really hope I can broaden some horizons and help you enrich your clients' celebrations with fun, classy entertainment that will leave their guests saying, "I wish I thought of that for my wedding!"
It's a Growing Trend:

Countless influential bridal bloggers have touted unique entertainment as one of the top bridal trends for 2011. In a recent Twitter chat, the online entertainment booking agency Gigmasters reported that bookings for dancers as wedding entertainment are up a massive 65% since 2010, with belly dancers and hula dancers being the top picks. Belly dance was incredibly fashionable for wedding receptions in the NY/CT market where I recently relocated from. If it's true that the New York market is 5 years ahead of the curve, then Orlando wedding planners should expect an increase in inquiries for all sorts of unconventional and glamorous entertainment, from burlesque dancers to aerialists or cirque performers to, yes, belly dancers.

Belly Dance is NOT Just for Arab Weddings:

A perfectly legit question many wedding professionals have asked me: "So you must do a lot of ethnic weddings, right? I wouldn't imagine belly dance would be all that popular among American brides." It would definitely seem that way, but surprisingly, that isn't the case! In CT and NY, over half of my bridal clients were not of Middle Eastern or Indian heritage! And while regional variances do apply, my friends in other markets have no shortage of American brides, either. After all, don't all brides want their wedding to be unique and personalized?
It's Not Just for "Casablanca" or "Bollywood" Themed Weddings, Either

:

Belly dance can shine even outside of settings where it's expected. If your client loves exciting entertainment and her wedding has any sort of opulent, dazzling, multi-cultural, and/or theatrical theme, don't be afraid to offer up a classic belly dance show as an option. What if your client requests belly dance for an otherwise traditional affair? Yes, it can be done, so please don't write it off! I've successfully performed plenty of classic black-tie receptions where the bride hired me to give guests an enlightening entertainment experience, or simply to add a twist of her personality to the celebration. The right entertainer will give you a refreshingly unique cultural presentation that fits, rather than a random, tacky novelty act that leaves guests saying, "What on earth did we just see?"

"Belly Dance is NOT….:"

Stereotypes are a subject that's near and dear to my heart. We all know they're not true, but there's always that painful grain of truth, and there are dancers who perpetuate the idea that belly dance is cheesy novelty entertainment – or worse. While a few bad apples can spoil the bunch, the majority of belly dancers are connoisseurs of the Middle Eastern arts who care about putting on a classy, authentic show. Moral of the story? If you saw something that left a bad taste in your mouth, or if you had a negative experience working with one belly dancer, please don't let this steer you away from recommending belly dance to your clients in the future. Seek out the right performers and we'll take care of you! That's my promise.

Everyone's an "Expert:"

One of the most depressing trends in the wedding industry is the "instant expert" phenomenon. No category is immune to this. Anyone can buy the right gear and say the right things – and voila! You can go from unemployed to "industry leader" seemingly overnight. Similarly, weddings are incredibly appealing gigs to inexperienced performers in hot pursuit of what they believe is easy, glamorous money. So never take anything at face value and don't believe everything you read on the internet. WeddingWire reviews, testimonials, and even references can be rigged. Resumes can be padded more than a Miracle Bra. Blog content can be copied and pasted with a few minor tweaks. If you get a bad gut feeling about a "professional" belly dancer you're working with, listen. Because it WON'T get better when she gets a contract and deposit in her hand.
Stay tuned for upcoming installments. Soon, we'll delve further into style and logistics. Thanks so much for reading my blog, and please feel free to share this with other wedding professionals you know!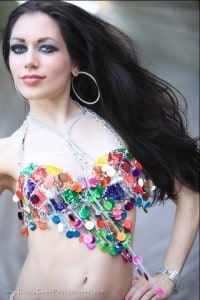 About Carrara: Carrara is a professional belly dancer offering elegant, authentic entertainment for weddings, corporate functions and special events in Orlando and Central Florida. Read more about Carrara or follow her on Twitter @CarraraNour.