Happy Memorial Day weekend, readers!
I thought I'd do something different and bare a little bit of my soul. You can only blog about wedding planning tips so many times before it all feels a little uninspired. This post is wedding-related, but this time I'll talk about a pivotal moment in my dance career – and it all happened on a Memorial Day weekend.
When people ask me how I got into weddings, I always give them the same response: "By accident."
Some belly dancers want to do weddings, need to do weddings, and jump into those types of gigs long before they're ready, either because those gigs seem glamorous to them, or because they think it's easy money, or some combination of the two. I was quite the opposite. For the first few years of my performing career, just the thought of doing high-stakes, high-stress gigs scared the living daylights out of me. Ironically, I could confidently book a show for a Fortune 100 company, a prestigious country club, or the type of private party that would make Martha Stewart green with envy – but something about weddings just paralyzed me with fear. At that point, I'd done a few weddings in tandem with other dancers, but when I got calls to do them as a solo act, I'd say I was booked and pass those gigs off to friends who were more experienced.
Yes, this is how silly I was!
Early that spring, when everyone else was starting to think weddings, a couple of friends started asking, "Carrara, you're booking such big jobs. Why AREN'T you doing more weddings?"
"Brides dream of their wedding day since they were little girls. They want perfection," I'd tell them. "I don't want to seriously start marketing myself for weddings until I can give them just that."
A few of my friends commended me for waiting. A couple laughed at me and told me I was missing out. One in particular said, "But you're working with some of the most demanding clients out there, and they're all happy with what you do. You already have what it takes. Don't sell yourself short."
Sure enough, a few weeks later, I received an inquiry for a wedding that Memorial Day weekend. I bit the bullet and booked the gig. The day of, I gave myself a pep talk reminiscent of Stuart Smalley from SNL: "You're good enough, you're smart enough, and doggone it, people like you!"
This was a gorgeous private estate wedding held outdoors in the lush, green hills of Litchfield County. The bride and her family did a beautiful job decorating a tent with rustic touches – potted topiaries, and small arrangements of Gerber daisies trimmed with Spanish moss. Lanterns, candlelight and fireflies lit up the dusk. I was booked by the Mother of the Bride as a surprise for the couple and their guests.
When I entered my performance space, the bride's face lit up – and my mind was at ease. My show was a traditional American Classic set – an entrance with finger cymbals, a full-length veil dance, a sword routine, drum solo, and lots of audience participation. The dance floor was PACKED. And before I knew it, it was time to exit the stage.
After I finished my show, threw on my caftan and came out to greet the bride and thank the Mother of the Bride, a friend of the bride's pulled me aside, thanked me for putting on a wonderful show, and told me, "The bride has had a rough year and you made her happier than you'll ever know. The most beautiful part of your show was that you always had your eyes on her. Even when your back was turned, you were always looking over your shoulder and smiling at her."
I don't think I slept at ALL that night. Not only had I done a great job and brightened somebody's day, but I'd also overcome one of my greatest performance fears. At that moment, I knew I could go on and become a stronger, more confident performer – and that I had it in me to deliver even upon dreams and expectations that my clients had built up over a lifetime. As I would later discover through many future bookings, my own quirky, neurotic perfectionist tendencies would actually put me in a perfect place to empathize with brides!
Sometimes, I feel a bit depressed that I didn't get into weddings much sooner. Sometimes, I wonder what could have been if I came flying out of the gates, zills a-blazin', and threw myself headlong into the wedding market as soon as I first started performing. Then, I realize, my present situation was meant to be. All of my previous experiences only prepared me to discover my passion – and quickly excel at it.
Dancers, if you're reading this – and I know you are – waiting until I was ready to do weddings was the best move I made in my entire career. I am very passionate about this. It doesn't matter if you've been dancing for 1 year or for 1 decade. If you don't feel confident, prepared or 100% driven to exceed your clients' expectations….if you have the slightest trace of a diva attitude or a lust for the limelight or inability to put others first….if "fake it 'til you make it" and "oversell and underdeliver" are your strategies to book wedding gigs….if you have no clue how to go from a Persian wedding to a conservative corporate event to an Indian mehendi party….WAIT. Trust me. What's the worst that could happen? You might have to log in another year or two of having fun and hamming it up dancing at private parties – oh yeah, that just sounds like torture! And it sure beats ruining somebody's day, or leaving a bad taste in an influential wedding planner's mouth, and having to do "damage control" after the fact.
To all my savvy bellydance artrepreneurs who are refining their skills, expanding their repertoires, and gaining experience before jumping into weddings, the entire belly dance community AND wedding industry thanks you for your professionalism!
Dancers, how did YOU get into weddings? Share your stories here!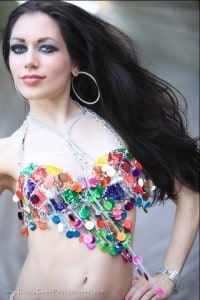 About Carrara: Carrara is a professional belly dancer offering elegant, authentic entertainment for weddings, corporate functions and social events in Orlando and Central Florida. Learn more about Carrara or follow her on Twitter @CarraraNour.