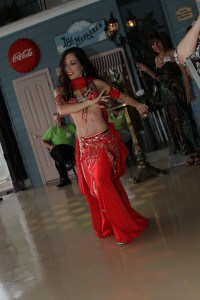 Dance at enough weddings and private functions and nothing really surprises you anymore. I've performed everywhere from runways to retail stores to the aquarium, fielding logistical challenges so random and bizarre, you'd probably think I was making them up. Throw any unusual performance situation at me and odds are pretty good that I'll say, "Been there, done that."
Of course, there's always the exception. Like, a miniature 1940's-style Bed & Breakfast town with a fully functional Irish pub, nestled inside an airplane hangar somewhere between the Middle of Nowhere and the Edge of the Earth. Now, that was a first for me!
This past Wednesday night, I had the pleasure of performing for a great group of vendors at a wedding industry Open House for Danville Bed & Breakfast, a totally unique new wedding venue in Geneva, FL. And what a party it was! Airplane rides and bagpipe music kicked off the "big reveal," when the hangar door opened to reveal the miniature Americana town within. When you're at Danville, you can't help but to feel HAPPY! Dancing in this cute little Disney-esque "town" was a throwback to quaint downtown streets in New England, the place where I call home.
Danville is an exceptional Central Florida wedding venue and I'm so proud to have been part of their Grand Opening. It's a little off the beaten path in Geneva (close to Oviedo), but I think that only adds to the charm. The bed & breakfast part of Danville makes the space perfect for weddings, especially destination weddings. Behind the "city" and upstairs, you'll find two bedrooms, two gorgeous bathrooms, His and Hers dressing rooms, and a kitchen designed with buffets in mind. Plus, DJs will love the in-house audio and lighting equipment, and photographers will love the gazebo, gardens and staircase. Dan also has access to some gorgeous vintage cars, which are available for bridal photo shoots.
Danville is the brainchild of Dan Shaw, whose simple goal of transforming an airplane hangar into a liveable space took on a life of its own. When I stopped by to do an on-site walk-through the day before my show, Dan was friendly, gracious and took his time to show me the space and explain its many unique features and benefits. I met the rest of his staff at the event the next night and they were absolutely lovely to work with. You can tell Dan and his staff are passionate about unique, outside the box weddings. If you're looking for an unconventional yet classy and cozy space for your wedding, you're in great hands at Danville.
If you want to find out more about Danville, check out their website. Words can't even describe how cool this venue is. You just have to see it for yourself!
Also, BIG thank you to the following vendors I worked with: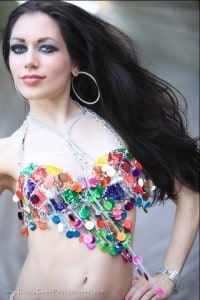 About Carrara: Carrara is a professional belly dancer offering elegant, authentic performances for weddings, corporate functions and social events in Central Florida (Orlando, Melbourne and Daytona). Learn more about Carrara or follow her on Twitter @CarraraNour.