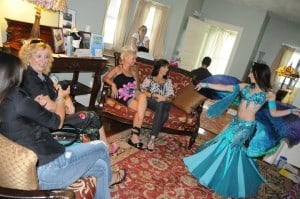 Where does the time go? It seems like just a few weeks ago, I was back home in Connecticut, shoveling 2 feet of snow off my car for the umpteenth time in one week. I've been here in Florida three months now. Just yesterday, I watched the fireworks from my sewing room window here in Merritt Island. (How else are you going to celebrate after you just did insane amounts of damage at the Sewing Studio's huge 4th of July sale?)
June was a great month for dancing, making friends and getting established in my new home! While I still have my headaches, last month, things finally started coming together for me as a new belly dancer for weddings in Orlando and the Space Coast. A few highlights:
WineHouse at Lake Nona:

This is my new regular venue! WineHouse at Lake Nona is a beautiful wine bar in the Lake Nona neighborhood of Orlando, and you couldn't ask for a better place to perform twice a month. The ambiance is classy and relaxed, and the crowd is always a pleasure to dance for and interact with. (There's never any shortage of participants for the mini-lesson at the end of my shows!) I'm there again on 7/16 and 7/30. Come out and shimmy with me!

Danville B&B Open House:

I had the pleasure of dancing at a wedding industry open house for Danville B&B, a unique new wedding venue in Geneva (Seminole County). It's an airplane hangar with a miniature 1940's town inside, and it even has a working Irish Pub! This is a fun place for the bride who wants to stand out. In keeping with the All-American atmosphere, I performed classic American Cabaret style in a fire-engine red costume.

Father's Day Celebration at Glenbrooke at Palm Bay:

There are few audiences I love more than seniors. When Deanne from Glenbrooke (a senior community in Palm Bay) hired me to dance at their Arabian-themed Father's Day celebration, I was just SO excited. The residents at Glenbrooke were spunky, sassy and tons of fun to dance for, and they entertained me with their witty quips just as much as I entertained them with my dancing! Deanne was very clear that she wanted me to perform a tasteful, authentic show that the women would love just as much as the men – and judging by the response from the ladies in the audience, I'd like to think we achieved just that! It was a very special day and I'm lucky to have been part of it.
Fundraiser for Misti Blu at the Parrish Grove Inn – I'll drop anything to help a friend in need, and I gladly shared my talents at a day of spa indulgence for Misti Blu, a brilliant local photographer and hair/makeup stylist in need of open heart surgery. I'll spare my rant about just how much the American healthcare system sucks for self-employed artrepreneurs, but it really is amazing to see how much the city of Cocoa has come together to help Misti get the surgery that will save her life. Misti's fundraiser was a great time to make new friends, catch up with fellow creative people, and hang out at the cozy, quaint Parrish Grove Inn, which is becoming a popular spot for weddings in Brevard County. (Henry Parrish took me on a tour of the Parrish House next door, which is under construction and slated to open later this year – ah-MAZ-ing!)
Horror Pinup Calendar Shoot: Another charitable deed, but this one involved a bit more costuming ingenuity on my part! Many of my friends are avid cosplayers, and when the girls of the horror blog Gores Truly asked me to be part of an upcoming horror-themed pinup calendar to benefit charity, I jumped right on it! Of COURSE my photo shoot had an Egyptian theme. Mummies? Cleopatra makeup? Clever use of Ace bandages? You'll just have to wait until October!
July will be a promising month, too. Just did my first Bachelorette Party on Florida soil (at the Diamond Ballroom in Oviedo), and lots of other good stuff coming up. Stay tuned!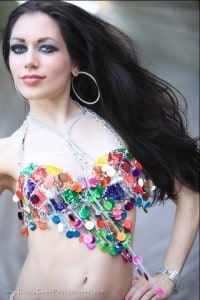 About Carrara: Carrara is a professional belly dancer offering elegant, authentic performances for weddings, corporate functions and social events in Orlando and Central Florida (Melbourne, Daytona, the Space Coast). Learn more about Carrara or follow her on Twitter @CarraraNour.