I always love when there's a perfect fit between me and a client, and Yelp.com and I go together like baklava and Turkish coffee. As a foodie, I pre-qualify every restaurant against the foodie feedback on Yelp before I venture out and try it myself. When I met the fabulous Orlando community manager Colleen Burns at my gig at WineHouse at Lake Nona last month, we instantly clicked, and I said "Game ON!" when she asked me to be part of the upcoming Fire & Ice party for Yelp Orlando.
The Fire & Ice Gala was a gorgeous party open to the public. The Gala benefited United Arts of Central Florida, a non-profit that boosts the arts and culture in Orlando, making Orlando a much more happening and vibrant place for visitors and residents to the city. We all know there's more to Orlando than tourist traps alone, and as I've discovered, there is actually a very cool creative community in Orlando if you dig hard enough, and if you stay away from I-Drive. We have organizations like United Arts to thank for this.
The Venue: The party took place at the GORGEOUS Heaven Event Center in Orlando. My friends in the local wedding community are constantly posting pictures of Heaven, and ever since I moved here 3 months ago, I've been dying to dance there. Heaven is an upscale event facility with a posh, ultra-modern feel. (Heaven brought back memories of the clubs in NYC). Heaven has gorgeous white Italian leather couches, white drapery, a waterfall fountain in the lobby, stunning bathrooms with blue glass basin sinks and floor-to-ceiling hand-cut glass tile in cobalt blue, and a perfect blank canvas for whatever decor and uplighting you choose. For the Fire & Ice Gala, red lighting added a fiery touch. I can see why Heaven is such a popular spot for weddings – there's nothing cookie-cutter about it, and the staff are absolutely lovely to work with.
The Entertainment: Bryan "DJ Tagas" Taylor brought his signature musical stylings to the Fire & Ice Gala, as well as the beautiful lighting. (He is the in-house lighting specialist at Heaven). I've only worked with DJ Tagas a small handful of times, but each time, he raises the energy in the room by 1,000%. The dance floor was packed. Kostya Kimlat worked through the crowd, performing live magic of the most charming and classy variety. (Let's just say he turned the act of exchanging business cards into a magic trick in and of itself.) And then, of course, there was me.
The Food: Of course, it's not a Yelp Orlando event without food. Cocktails Catering did ceviche and a bruschetta station. Cake Shooters, Jeremiah's Italian Ice, and Sweet! By Good Golly Miss Holly provided the sweets. Grand Touring Vodka, Honest Tea, Vitamin Water and Orlando Brewing provided the drinks to wash it all down with.
The Photographer: My girl Victoria Angela was there to photograph the event. When I'm performing, she never misses a beat! Yelp got some amazing shots from Victoria.
My Show: Last, but not least, I provided ambient belly dance entertainment in the form of a 20-minute "roving" set with some audience interaction. I showed off the "fire" side of my dance persona in my red Bella. This show presented an interesting logistical challenge: how to convey the theme of fire in a venue where open flame is prohibited. Tea lights in votive holders are not terribly dramatic in a big space, and cumbersome to balance on a tray. LED candles are cheesy. ('Nuff said). Wings? How about layering red translucent wings with white opalescent ones, and being the Phoenix? Bam! This was a great way to get maximum "fire" impact in a situation where I couldn't use actual flame.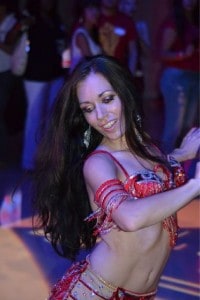 About Carrara: Carrara is a professional belly dancer offering elegant, authentic entertainment for weddings, corporate functions and social events in Orlando and Central Florida (Melbourne, Daytona, the Space Coast). Recently relocated from Fairfield County, CT, Carrara is quickly making a name for herself in the Orlando market with her unique performance style, which is interactive, approachable and refreshingly classy, simple and to-the-point. To book Carrara for your next event, check out her Booking Page.