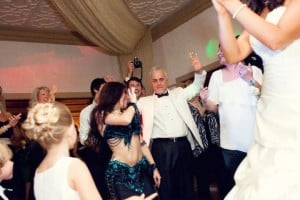 Sometimes, as a belly dancer for weddings in Orlando, gigs come up that are a sheer stroke of luck. Just the other day, a friend tipped me off that her friend's colleague Matt was looking for a belly dancer for his daughter's wedding….in 24 hours, on a Saturday. For some odd reason, the stars were aligned and I had the night off. So I said, "Why not?"
When I jokingly asked Matt why he waited until T minus 24 hours to book his daughter's wedding entertainment, he said his daughter Jada originally didn't plan on having a dancer. Of course, if you're Turkish and your family finds out that you're NOT having a belly dancer at your wedding, you will probably find yourself in the hot seat. For many Turks, a big, happy wedding without a belly dancer is almost like an American wedding without the cake – inconceivable! To pay a nice tribute to her culture (and appease her family), Jada and Matt agreed to start looking for a belly dancer – a decision that would make both their Turkish family and the groom Jeremy's American family very happy.
The reception was at Maison & Jardin, a beautiful restaurant in Altamonte Springs that evolved into a full-scale wedding and event facility. Jada wanted her wedding to have a rich, classy look, and Maison & Jardin was the perfect venue for an elegant black-tie wedding. This place is a hidden gem that reminds me of some of the upscale wedding venues I danced at back home in Connecticut – the atmosphere is traditional and high-end without looking stuffy, and the details were just gorgeous. (The gold crown molding! The huge mirrors! The amazing wine cellar!) The staff were friendly and Brittany took great care of me while I waited to perform and coordinated last-minute logistical details. The rest of the decor complimented Maison & Jardin's warm ivory and gold colors beautifully: gold chiavari chairs, an ivory cake with elegant black almost mendhi-esque scrollwork (from the amazingly talented Anna Cakes), floral arrangements with burgundy roses and ivory hydrangeas. The bridal party wore chic little black cocktail dresses and Jada looked gorgeous in a white ballgown with gathering and crystals on the bodice. Wedding planner Terry Smedley (Save the Date, LLC) coordinated Jada's elegant vision right down to the last detail, and Pyramid DJs kept the party rockin' all night.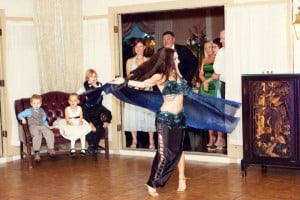 In keeping with the Turkish tradition, I performed to a mix of contemporary Turkish Orientale music. For the American side of the family, I added a few props for visual interest. To match the bridal party's attire, I wore a black vintage bedlah loaded with glossy fringe, and a black straight skirt with cutwork up the sides. My set included a longa entrance with zills (finger cymbals), a veil dance to a mid-tempo Turkish-styled chiftitelli, a candle dance to a qanun piece (candles are always a hit at weddings!), a drum solo, and some Turkish pop classics to get the family out on the dance floor. As is typical with Turkish gatherings, everybody sang along to my music and showed off their chops on the dance floor – the mother of the bride, the gentlemen, and several gutsy children. It was really sweet to see Matt and Jada dancing together to Mavi Mavi! The dance floor was packed by the end of my set. Mission accomplished.
This was an elegant wedding and an incredibly sweet family, and I am lucky to have been part of their celebration. Congratulations to Jada and Jeremy!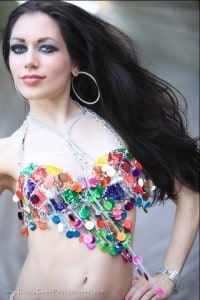 About Carrara Nour: Carrara is a professional belly dancer in Orlando offering elegant, authentic entertainment for weddings, corporate functions and social events in Central Florida (Orlando, Melbourne, Daytona). To book Carrara for your Orlando event, check out her Booking Page.