If I could create a list of Cardinal Rules of Being a Professional Belly Dancer, I'm pretty sure #1 would be: "Everyone's a critic. You can't please everyone, and you'll go crazy if you try."
Lord knows, I didn't "go pro" yesterday. I'm aware that I'm involved in a very shallow industry. In the entertainment biz, you can only expect to lose gigs based on totally superficial factors. Some days, you're damned if you do and damned if you don't. Case in point: Within the last few weeks, three of my friends in the Orlando wedding community advised me that I might run into challenges in the local wedding market because I'm a pretty girl and "every bride wants to be the prettiest girl in the room." Being petite and athletic, I have had clients thank me for staying "in shape" unlike other belly dancers they've seen, and I've also had audience members tell me point-blank that if I want to call myself a belly dancer, I need to gain 20 lbs. It's tiring, but it's a fact of life, and I'm grateful that a) my clients are a savvy bunch and they hire me based on intangibles like my professional reputation, and b) I don't draw all of my personal identity from belly dance, or my eligibility to get certain types of gigs. My boyfriend, my friends, my two pugs, and my love of nature and the outdoors are what keep me sane.
Despite the more superficial side of dancing professionally, what draws many of us to belly dance is that it actually is a very beautiful dance on women (and men!) of ALL body types. Under the umbrella of "famous" belly dancers, you'll see everything from tiny and petite to statuesque and voluptuous. Not to mention, unlike ballet, jazz, modern or other Westernized dance forms, you WILL see famous belly dancers well into their 30's, 40's and beyond, who are still rockin' it. Outside of the more superficial circles, maturity is actually considered an asset in belly dance, as confidence, emotional depth and life experience lend soul and beauty where raw technique leaves off. I know for a fact that in my late 20's, I've become a far more expressive, soulful and entertaining dancer than I was when I was 22 and just excited to be onstage – and I also know that I've only uncovered the beginning of my potential!
One of the coolest things about belly dance is that it looks totally different on every body type. You can give 12 girls the same move or the same choreography, and you will get a different dance from everyone in the room. Last weekend, when doing a bachelorette party at Diamond Ballroom & Dance in Oviedo, I taught my girls how to do an Egyptian shimmy, and the running commentary in the room made me smile. "Is your butt supposed to shake?" "Oh my goodness, the flab on the back of my thighs is jiggling!" "How do I get my 'girlfriends' to stop jiggling? Is this supposed to happen?" "Why are my triceps shaking?"
My response? "Congratulations, girls, you're doing it right!"
There were audible laughs and sighs of relief, and once the bachelorettes realized this was perfectly normal, they also realized it was pretty cool. As I explained to them, I've always been secretly jealous of the more "fluffy" dancers, whose shimmies pop from across the room. But if you're a tiny little slip of a thing like myself, not all is lost: as I learned through a bit of private coaching with Aradia, it's all a matter of relaaaaaaaaaaaaaaaaaaxing into the movement. (Wearing costumes with short tufts of fringe also helps!)
Here's the bottom line: Confidence is beautiful. Conformity is boring.
Have you ever seen an entertainer who kept you riveted for some inexplicable reason? By the end of her show, you hardly blinked, 30 minutes had elapsed, and it felt like only 3 minutes went by? It's because she projected confidence onstage, plain and simple. On an internet search for belly dancers for your party, a dancer with the body of a Victoria's Secret model may stand out. In an actual real-time performing situation, confidence will trump the perfect bod or even flawless technique, in 9 out of 10 situations. Fact: a great belly dancer does so much more than show up in a beautiful costume and shimmy. Unfortunately, many clients don't realize this until their event has passed and all their guests have forgotten all about the entertainment – so that being said, I urge all brides and party planners to hire a belly dancer who not only looks great in her costumes, but exudes confidence and fun from the first booking conversation!
Like lots of dancers under the age of 30, I'm still building both my confidence AND my personal style. Yes, it still hurts when people make callous remarks about what a "real belly dancer" should look like. (Of course, those people usually aren't GQ material themselves, which makes it easier to let the comments roll off your back!) But hey, it is what it is. I'm 5'0″, 95 lbs. soaking wet, built like a surfboard, and while I'm still young, I'm not necessarily getting younger. I can also pull off ridiculous cutesy-pootsy, flirty, girly moves that would make a 6'0″ glamazon feel ridiculous. And I can make my undulations look extra fluid and snake-y. And I have a wicked sense of humor, a megawatt smile, and the uncanny ability to charm the living bejeezus out of any crowd. Of all my belly dance idols, I can't think of a single one who fits the stereotype. Key in Soheir Zaki or Fifi Abdo on YouTube and you'll see a slew of people commenting on how they're too fat! You can't please everyone, but you sure as hell can be yourself, and more people will love you for that than for conforming to other people's narrow-minded stereotypes.
To all you non-dancers who think you can tell us what a "real" belly dancer looks like? Here are my finger cymbals. YOU show us how it's done. To quote my Jersey friend Gia al Qamar: "It's not the shape of my ship, but the motion in my ocean!"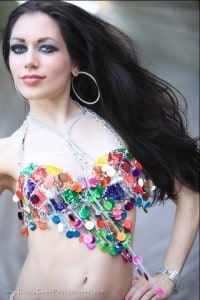 About Carrara Nour: Carrara is a professional belly dancer offering elegant, authentic entertainment for weddings, corporate functions and social events in Orlando and Central Florida. Learn more about Carrara or follow her on Twitter @CarraraNour.