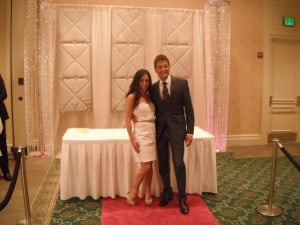 I don't get starstruck often. Well, there was the time I bought that costume that belonged to Nadia Gamal – alas, I digress. But I had the crowning jewel of all fangirl moments when I met Randy Fenoli from TLC's Say YES to the Dress at a special VIP presentation for some of Orlando's top wedding professionals.
Yes, I danced at the event earlier in the day, but this post is SO totally not about me. It's about Randy!
While most reality TV shows about weddings hurt my brain, I've always been a fan of Randy Fenoli and Say YES to the Dress. Say YES not only features some amazing fashion advice, but also paints a very realistic picture of the many emotional ups and downs leading up to weddings, and many of the joys and frustrations my own brides go through. There's no schlocky, sentimental Hallmark Channel fluff and no scary, over-the-top sensationalism (hello, Bridezillas!). And Randy totally makes the show, with his wit, candor and insatiable drive to make ALL brides feel beautiful, even when they're stressed, frazzled, and at their wits end listening to their mother's fashion commentary.
You can rest assured that Randy Fenoli is just as entertaining in person as he is on-screen. In his presentation for vendors, Randy spoke about a number of subjects near and dear to my heart, from winning your brides' trust to resolving problems to turning down a sale with grace. His positivity was contagious and his message was powerful: integrity, compassion and highly personalized service are what separate the upper echelon of the wedding industry from everybody else. While some industry experts have criticized the classic luxury sales approach as being too old-school for Gen Y brides, Randy is a shining example of why VIP service is always relevant and will never go out of style.
The other thing that moved me about Randy's presentation was his unrelenting belief that ALL women are beautiful. Earlier, he gave an equally wonderful presentation for brides, with an emphasis on letting your inner beauty shine through, and a beautiful message: "If you believe in God, then you should know that He wouldn't create anything that was less than perfect." I don't think there was a single bride in that room at that moment who didn't stand up and cheer!
This was a wonderful event and the company was just as delightful. I felt honored and inspired to be in the same room as some of Orlando's top wedding professionals, and we all taught each other something as Randy's Q&A turned into an open forum. We all had a wonderful opportunity to educate each other and explain various ways we can work as a team to make each other's lives easier and produce a better end result for our brides. I learned about the intricacies of bustle draping, and I know I enlightened a lot of professionals about my own (sometimes misunderstood) art of Middle Eastern dance.
The more you climb the professional ladder, the more you realize that there's a lot more to learn. There are belly dancers who do just one or two weddings and tout themselves as bridal experts. I've been performing MUCH longer than that, and I left this presentation feeling like I'm only using 10% of my true creative and professional potential! It's not unlike my training with master belly dance teachers. One of the keys to leadership is to surround yourself with people who are smarter and better than you are, and by meeting Randy and all of the Orlando wedding pros who came to see him, I accomplished just that.
Before I keep raving much longer, I want to extend my most heartfelt "thank you" to Christal Feldman and her team at Orlando Wedding Group for putting on this phenomenal event and inviting me to perform in the show. Al Dee Productions nailed the uplighting and coordinated my dance performance effortlessly. Special Touches By Deb created some incredible floral arrangements. Over the Top, Inc. supplied some outstanding purple linens to match Randy's signature tie. Design Elements set up some incredible 10′ crystal columns that were every bling-a-holic's dream. The Collection Bridal dazzled us all afternoon, as models in decadent bridal couture strolled through the ballroom. And A Chair Affair kept us all seated in style with silver chiavari chairs with rich royal purple cushions.
And for those who couldn't make it to Randy's presentation, he revealed to us his lifelong dream: to compete on Dancing With the Stars. Want to help jump-start Randy's dancing career? There's a Facebook group called "Get Randy Fenoli on Dancing With the Stars!"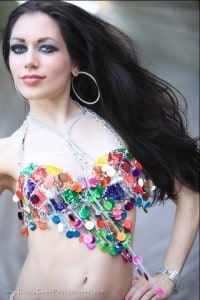 About Carrara: Carrara is a professional belly dancer offering elegant, authentic performances for weddings, corporate functions and high-end social events in Orlando and Central Florida. Read more about Carrara or follow her on Twitter @CarraraNour.