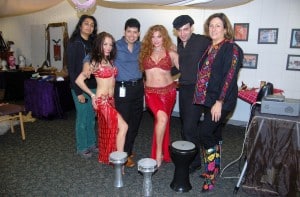 I'm brand new to Orlando, but I'm not at all new to helping my clients make the most of their special events. As the new kid in town, I thought I'd start a new series of blog posts highlighting some of the events I've performed at back home in CT. Hopefully, this gives you a feel for who I am, what I've done, and what you can expect when you book me to belly dance at your Orlando wedding, corporate event or party!
The first case study is a Cultural Day I did for the consumer packaged goods giant Unilever at one of their local offices. Talk about serendipity – I'd left a stack of my cards at my favorite Thai restaurant, and as luck would have it, my soon-to-be client Jorge and his colleagues were at lunch discussing their upcoming Middle Eastern themed Cultural Day, stumbled across my card, and the rest was history.
Now, as any of you in the corporate world will understand, cultural diversity in the workplace IS a big deal, and yet so many conventional presentations on the topic just fall short. Jorge and his event planning team did NOT want this to happen. From our first point of contact, Jorge was emphatic that he wanted to "go big or go home" and create a vibrant, larger-than-life cultural experience with music, dance, food, art and education. The theme for Unilever's event was North Africa and the Middle East, and naturally, a classy belly dance performance was in order.
Whenever possible, I like to put on my Project Manager hat and help my clients coordinate more than just my show. In the months leading up to Unilever's Cultural Day, the event just kept getting bigger and better, taking on a life of its own every time I met with Jorge at the office. What started out as a one-belly dancer show soon turned into a duet, as I invited my friend Adina. One set turned into two. (One folkloric cane dance, one sparkling routine in the familiar belly dance style known as "American Cabaret.") Of course, the show wouldn't be complete without live Middle Eastern music, so we brought NYC's Carmine Guida on board to play drums and oud. For gorgeous Turkish and Egyptian decor cherry-picked from the world's most exotic locales, we enlisted the help of Hope Mandel with Hope's Travel Treasures.
The day before the show, I stopped by Unilever's office to do a quick on-site walk-through. I couldn't believe my eyes as a cold, austere conference room had been transformed into a Moroccan bazaar with arches, beautiful fabric draping, ornate rugs and potted palm trees. You could feel the passion and excitement as administrative staff, R&D professionals, and marketers put on their event-planning hats and worked on transforming this space.
Naturally, after 7 months of collaboration, the event came to fruition beautifully. Gorgeous Middle Eastern music filled the air. Our audiences got a taste for two different types of belly dance. Adina and I performed to a live oud taqsim and drum solo. And in lieu of traditional dance-centered audience participation, we handed out doumbeks and Carmine taught employees how to play basic Arabic drumbeats. What a blast!
At the risk of baring my soul, I was actually a little depressed the day after this event, knowing that it was all over! But at the same time, I am blessed to have had such a wonderful performing experience, and I gained more confidence and expertise just from booking this one show than I can even begin to describe in this blog post alone. Not to mention, my client was very happy! Jorge gave me this wonderful feedback following the event:
"I had the great pleasure to work with Carrara Nour for an internal cultural event organized by Unilever this past November 2009.  Carrara brought a tremendous amount of energy, professionalism, knowledge and charisma which allowed us to have a vibrant dance and music section, coordinated by Carrara herself. I enthusiastically recommend her and her expertise in arranging a middle east inspired dance performance.  Not only is Carrara a great performer, she also is able to very eloquently articulate historical and educational aspects of her craft, which can inform and captivate an audience, making the experience more meaningful. Her extensive network of artists also provides an ensemble of connoisseurs that are able to participate along with Carrara for a complete event."
Funny fact: one year later, Unilever offered to hire me as an Event Coordinator for their South Asian themed 2010 Cultural Day! I was bogged down with wedding gigs and couldn't pull it off. But it's good to know I made an impression!
Before I wrap up this post, I'd like to thank the following lineup of AWESOME vendors for helping me orchestrate this show. If you're in the CT/NY area, I can highly vouch for their professionalism and expertise:
Belly Dance – Adina
Drums and Oud – Carmine Guida of NYC
Middle Eastern home decor and belly dance costume goodies – Hope Mandel, Hope's Travel Treasures (recently relocated to Turkey, but I think she's still taking orders!)
Catering – Saray Turkish Kitchen – RIDICULOUSLY good food. That's all I have to say!
Would you like to book a belly dancer for your Orlando corporate function? I'd love to help! Please visit my Booking page for more information. And P.S. – I do weddings and parties, too!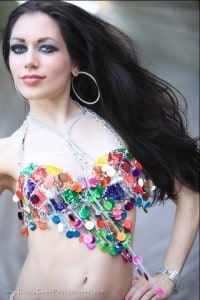 About Carrara: Carrara is a professional belly dancer offering elegant, authentic performances for weddings, corporate functions and special events in Orlando and Central Florida. Learn more about Carrara or follow her on Twitter @CarraraNour.