What do you get when you take a swing dancing bride and groom and a sexy secretary and put them in a landfill? If you're Orlando-based "green" wedding photographer Kristen Wheeler, you get art!
I have a symbiotic relationship with photographers, since I'm dating one and I regularly hang out with all of his shutterbug friends. Kristen is just one of those dear friends to me. When I first met her at a mutual friend's wedding reception, we instantly had a lot to talk about (it helps that she's an accomplished belly dance photographer in Orlando), but our time was cut short since she was taking pictures of the wedding guests. After weeks of getting to know each other through Facebook and over the phone, I finally had the pleasure of working with her on an her ad campaign to spread the awareness of 1. green weddings in Orlando and 2. her recent certification as a green photographer. What an experience!
Now, I know what you're probably thinking. "Green weddings, huh? That's a clever marketing gimmick." Well….we'll save the alarming statistics for the end of this post. But sustainability IS a big deal. Many of us are beginning to buy local, think global, and seriously consider the "footprint" we leave on the earth. You drive a hybrid, you use re-usable shopping totes, and you eat sustainable seafood when you go out for sushi with your girlfriends. If you live an environmentally friendly lifestyle, then it's only natural (pun not intended) to tie the knot in a fashionable, sustainable way. (Plus, it helps that The Knot recently dubbed green weddings "the hot new thing!")
As Kristen explains in her recent article Something Old, Something New, Something Borrowed, Something Green for Central Florida Bride magazine, it's all about making the right choices. Just a few of her favorite tips:
Want to look like a million bucks? Rock a vintage dress and accessories, and use organic skincare. (A line I swear by is called MyChelle, and you can buy it at Whole Foods).
Go for locally grown seasonal flowers that are free of pesticides.
Have guests RSVP online through your wedding website to save trees.
Select a photographer who does everything paperless, creates vegan albums with non-leather bindings, and prints photos on recycled paper. (If, for some reason, Kristen can't get you recycled prints, she will even plant a tree in your name!)
Instead of the usual Bed Bath & Beyond registry, have your guests donate to the charities of your choice. (This is, in my opinion, one of the best trends to come out of William and Kate's wedding!)
To read the rest of the article, plus lots more tips on planning your Orlando wedding, pick up your copy of Central Florida Bride magazine.
Helping Kristen with her ad campaign was a pretty sobering experience. Driving through her stomping grounds in Eustis, I was amazed by the beautiful Old Florida scenery – old Victorian homes by the lake, fragrant flowers, blossoming orange groves, old trees draped with Spanish moss. Then, minutes later, we got to the landfill and poof – everything that was abundant and green was gone. Now, if you know what literally hundreds of square feet of garbage looks like, and if you had to strike "pinup secretary" poses in front of it, you find yourself questioning a lot of your lifestyle choices. I don't think any of us left the landfill portion of Kristen's shoot without feeling a little bothered by the extent to which we're destroying our planet. Posing in my green repurposed vintage belly dance costume in front of vibrant foliage later that evening was a welcomed respite from the depressing man-made landscape I'd seen.
But now for the important part – Kristen was a real pleasure to work with, and I know you will love her as much as I do. Aside from being a rare Orlando wedding photographer who does green weddings, her creativity is off the hook, and she knows exactly how to light, pose and angle her shots to make you look like a movie star. Plus, her vintage-inspired post processing style is so classy and hip, with a touch of mystery. I give her two (green) thumbs up.
And now, for the results of our shoot, plus some statistics to think about as you plan your Orlando wedding: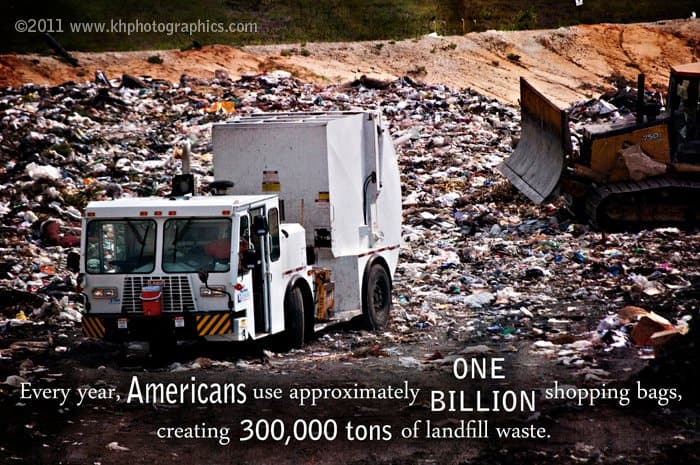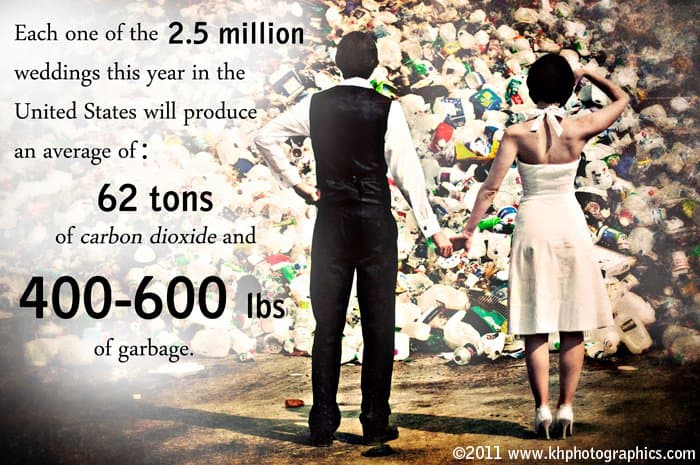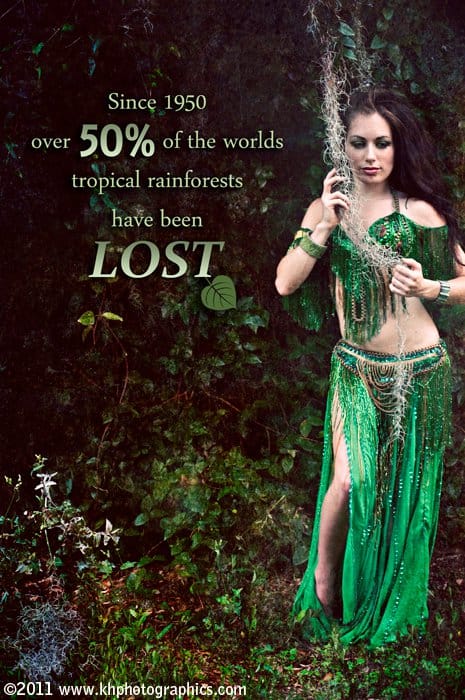 To book your green wedding shoot with Kristen Wheeler, check out http://www.KHPhotographics.com.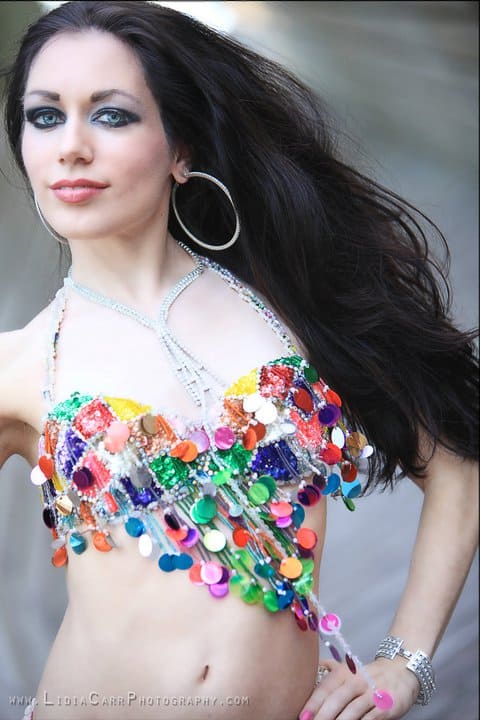 About Carrara: Carrara is a professional belly dancer offering elegant and authentic entertainment for weddings, corporate functions and high-end special events in Central Florida (Orlando, Melbourne and Daytona Beach). Read more about Carrara or follow her on Twitter @CarraraNour.