Everyone knows I'm all about the weddings, and all about the big milestone parties. But I also do some really nice corporate events for small to mid-sized Orlando and Brevard County businesses, and once in awhile, I get to do something different – like interrupting the regularly scheduled team meeting with a birthday surprise for the boss!
Yesterday afternoon, I got to do this for a software company at their office in Melbourne. It was the boss's 50th birthday and a quick 5-minute show featuring finger cymbals and sword was just the right way to break the ice and surprise the Birthday Boy before the team cut the cake. The beginning of my sword dance also proved to be the perfect time for one wise guy to pipe up and ask about his raise!
Whether you prefer to call it "dance and dash" or "hip and run," a bellygram (or Mini Show, as I like to call it) makes a fun and unexpected birthday surprise for your boss or co-worker – especially if they're Middle Eastern or Indian, or if they love other cultures. It's also a great idea if your boss is the Smart-Alec-y type and you're dying for the opportunity to put him in the hot seat!
Interested in hiring an Orlando belly dancer to shake up your next office birthday party? A few quick pointers:
Keep it a Surprise: A bellygram always goes over best if you plan discretely and keep the entrance a surprise. Make calls in the car during your lunch break, or when your boss is out of the office. Scope out the most discrete entrances and changing rooms before the dancer arrives. There's an art to being sneaky, and I wrote a blog about the subject: Covert Ops: Notes from a Surprise Birthday Party.

Keep it Short and Sweet: A  simple show, up to 6-7 minutes long, is the perfect solution in an office environment, where people generally 1. are too preoccupied to be a captive audience for a full show, and 2. might not know what to make of live entertainment outside of its expected setting (parties, weddings, clubs, etc.)
Keep it Classy – Worried about what your boss and co-workers might think? You shouldn't, as long as you do some homework and Hire an Orlando belly dancer who knows how to liven up the party tastefully. Read reviews/testimonials, review their photos and video, and talk to the dancer on the phone. A quality Orlando belly dancer will make YOU look good when you surprise your boss or co-worker with top-notch entertainment that makes them smile. Trust me – you DON'T want to be remembered as the one who got the VP of Marketing in trouble when the cheesy belly dancer you hired sat in his lap! (Take a look at my blog and FAQ's and I think you'll know where I stand on the Turn The Boss Into a Sultan Act).
Don't Expect the Birthday Boy/Girl to Dance – At weddings and parties, where the crowd is totally relaxed and in the mood to party, my track record of audience participation is literally 100%. At work, where the Birthday Boy or Girl may feel a bit more reserved, the likelihood of getting them up to dance in front of their boss or their staff is realistically closer to 50%. (Side note: In a not-so-distant past life, I worked as an account manager for a big media company that had an extremely "buttoned-up" corporate culture. If somebody forced me to dance in front of my boss, I would have died of embarrassment on the spot!) As I tell each of my clients, the main attraction of an office bellygram is the element of surprise, the great Kodak moments and a crazy-fun diversion from the daily grind. If the Birthday Boy or Girl gets up to dance, that's the icing on the cake!
Have Fun! Don't just sit there. Create a party atmosphere! Clap, cheer the dancer on, yell "Opa!" Get up and join us if you're feeling brave. If you show that you're having fun, everyone else will too, and the show will be that much more fun for the Birthday Boy or Girl.
These ideas are just a starting point, and don't forget! You can also book a Mini Show to celebrate your boss or co-worker's promotion, retirement, or Bon Voyage party. Looking for inspiration? Head over to my Booking page for all the details.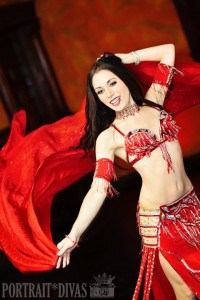 About Carrara Nour: Carrara is a professional Orlando belly dancer specializing in custom performances for corporate functions, weddings and high-end social events. Let Carrara bring some culture to your corporate culture! To hire Carrara for your Orlando wedding or event, check out her Booking Page or follow her updates on Facebook.