Dear Carrara,
I hope you don't get offended by me asking this, but tell me the God's honest truth: is it tacky to have a belly dancer perform at your wedding? You see, my fiance and I are sick of going to all these boring, same-y, cookie-cutter weddings where the Cupid Shuffle is the highlight of the evening, and where everyone gets bored and leaves early and starts making up excuses about feeding the kids' pet iguana. We have our hearts set on having some sort of unique entertainment during our reception so our guests have something fun to look at and talk about. A belly dancer came to mind because my fiance and I both love traveling and learning about Middle Eastern culture.

We went ahead and interviewed a few belly dancers, found one we really loved, got our wedding planner all excited about the idea, and when I told my bridal party about our entertainment idea, a few of the girls laughed and said it was cheesy. Of course, they couldn't really expand upon WHY they thought so!

I'm pretty sure I'm hiring the belly dancer regardless of what they think – but really. Am I committing some sort of unspoken wedding faux pas by doing something unique with my entertainment? Or are my 'maids just being uptight over nothing?
Fashion-Conscious in Philly

Dear Fashion-Conscious,
I wish I could say you're the first bride who's approached me, directly or indirectly, about this subject. Unfortunately, you're not. At least once a month, a bride somewhere in the world Googles "Is it tacky to hire a belly dancer for my wedding?" and lands up on my website – hopefully, with a whack of enlightenment upside the head by the time she's done reading my Weddings page and Blog! Don't get me started on this topic, because it really gets me riled up.
The short answer: there is nothing inherently tacky about pure Middle Eastern dance. There's also nothing inherently tacky about having a belly dancer at your wedding.
In fact, there literally isn't a more authentic venue to see belly dance than at a wedding. The same belly dance we know and love as a contemporary performing art is directly derived from Arab social dances that were originally done at festive occasions like weddings. To this day, Arab brides living in the Middle East will pay top dollar to get a belly dance rock star like Dina or Leila to perform at their wedding, for sort of a dual purpose: to symbolize fertility and good luck to the newlyweds, and of course, to one-up the last wedding they attended.
Belly dance has also become quite popular even for American weddings over the last 5 years, thanks in part to luxury party planning TV shows like David Tutera's My Fair Wedding, which features glamorous live entertainment in almost every episode. I can vouch from personal experience, as I've performed at some of the highest of high-end weddings in the NY metro area where I recently relocated from, and belly dance couldn't be any more fashionable for weddings up there.
Of course, just because belly dance itself isn't cheesy doesn't mean there's no such thing as cheesy belly dancers – and your friends may be trying to protect you. Unfortunately, there's a good chance they might have been traumatized by something heinous they saw at a bad Middle Eastern restaurant and they're afraid that you'll hire a cheap entertainer who shows too much skin, sits in your dad's lap, and drains your bar.
Or perhaps, they're projecting a few insecurities of their own. Maybe they have no idea why you'd allow another beautiful woman in a sparkling outfit to enter your reception venue and steal attention from you and YOUR sparkly outfit.
Regardless, now's a good time to talk to them and assure them that you've done your homework, hired a pro, and you've got the situation under control. Just because some DJ's are loud, obnoxious, inappropriate and play nothing but the Macarena and the Chicken Dance, doesn't mean all DJ's are like that. Naturally, just because some belly dancers are underdressed and overbearing and would have the "brass cymbals" show up to a wedding wearing a white costume and a tiara, doesn't mean we're all the same.
If that doesn't work, then I'd suggest that you disregard all comments from the Peanut Gallery. Hey, it's YOUR day, and quite frankly, my one wish for ALL of my brides is that you relax, have fun, stop trying to please everyone and make your wedding day all about YOU and your unique love story. You only get one shot. So make it fun, make it fabulous, and to heck with the rest!
Cheers!
Carrara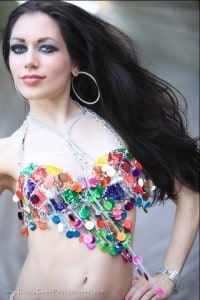 About Carrara: Carrara is an Orlando-based belly dancer offering custom entertainment for weddings and glamorous events. Likes: weddings, making her beautiful brides happy, classic belly dance. Dislikes: stereotypes and when dancers perpetuate them. Proudly specializing in "cheese-free" entertainment since 2006. To learn more, check out her Booking or Weddings page, or follow her on Facebook.