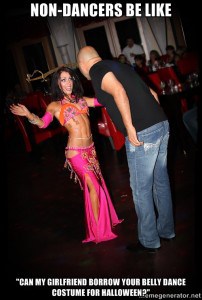 Halloween is a time when all the kooks and spooks, ghosts and goblins, and fine feathered freaks crawl out of the woodwork and show up at my house. They don't want to eat my brains, or even the Fun Size Snickers bars I leave out for them.
They come to raid my closet.
Nobody really gives a flip about my closet full of swords, chiffon fluffies, and sparkle-bras 364 days out of the year, but come Halloween, everyone becomes my bestie.
It usually goes a little something like this:
"Hey Carrara, what are you going as for Halloween?"
"Oh, I don't know, probably a Sexy Unicorn.""Oh, so…..you're not wearing one of your belly dance costumes?"
"Oh HELL no! Those are my work clothes, bro. I'm not going as myself on a Saturday night for Halloween. That's boring!"
"Oh….I see…..well, my girlfriend is going as a Sexy Genie for Halloween, and you two wear the same dress size…."
Which brings me to a brief PSA….
Should You Raid Your Belly Dancer Friend's Closet? JUST SAY NO.
Sequins, and Swarovskis, and Chiffon, oh my! Those swirling silk veils, and those fancy, blinged-out bras, and those little bells that go on the fingers that go "clingy-cling-cling!" (I'll give you $100 if you can tell me what they're called!) They would be perfect for a Halloween costume, right?
Only if you can replace it if you drag it through the mud, or if some drunk with a glass of red wine bumps into you, or your friend wearing a full coat of body paint runs up to you and gives you a big bear hug!
Here's the deal. Professional belly dance costumes can range anywhere from $300 for something simple to $1,000+ for an elaborate couture design. They are made exactly to our measurements, or otherwise painstakingly altered to fit us. More importantly, our costumes can also have sentimental meaning to us. Quite a few of my vintage costumes were owned by previous mentors or famous dancers, and have really cool stories behind them. If my house burned down, I'd grab my dogs first, then a few select costumes!
Most belly dancers have no problem loaning out cheap chiffon scarves, coined belts, and small accessory pieces, as long as you bring them back. But asking a professional belly dancer to loan you her very special, one-of-a-kind costume? That's almost as bad as me asking you to loan me your wedding gown so I can be a zombie bride.
"….But I promise I'll bring it back and won't get it dirty!"
Just let that sink in….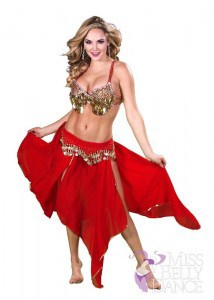 Where to Shop:
The good news is that there are tons of places that sell cheap beginner belly dance costumes, and other pieces that would be perfect for an Arabian Nights or even Bollywood inspired Halloween costume. Some inspiration:
MissBellyDance.com – Some very cute stuff for the price, including men's and kids' costumes!
Yandy.com – A little more naughty, for all you Sexy Genies out there. Perfect for clubwear. Definitely not appropriate for paid belly dance gigs!
Bellydance.com – More cute stuff for women and girls
Orlando Belly Dance – If you're looking for belly dance costumes in Orlando, FL – go check out my friend Suspira's studio and store! Her inventory is constantly changing but she has tons of beautiful imported costumes (and teaches classes, so you can even learn the moves!)
Simplicity Patterns – Do you DIY? You can purchase sewing patterns for belly dance Halloween costumes at Jo-Ann's and any other store that sells Simplicity brand patterns. (I've used them as bases for costume pieces).