Do I have your attention? Good.
This post is not what you think it is. For some of you, it may be good. For others, it may be a letdown. But just to get a little something off my chest:
Belly dance does NOT come from mystical childbirth rituals. It was NOT an ancient precursor to pole dancing, nor was it something scantily-clad women did while lolling about in a harem in anticipation of seducing the Sultan. It wasn't an ancient Pagan ritual, or an exotic art of the Devadasi. Nor were there bands of free-spirited, skirt-flinging  gypsies who were Bohemian Chic before Madonna came along.
Have I crushed your dreams yet? Good.
Truth is, the history is belly dance is pretty unsexy. Long story short, raqs sharqi as we know it today is a stylized version of social dances that people did for fun at parties and weddings in the Middle East.
Anybody who's spent lots of time at Middle Eastern and Mediterranean weddings knows that Uncle Ali is not expressing his feminine side when he joins the debke line, and Grandma is NOT teaching her 4-year-old granddaughter Yasmine how to seduce her future husband. Plain and simple, they dance to have fun – just like most of us do!
True, family-style celebratory dances don't tug at the contemporary woman's sex-positive feminist heartstrings the way goddess worship and childbirth rituals do. On that note, many teachers might even alienate potential students if they sacrificed "wishtory" for a simpler explanation. But isn't there something noble in and of itself about dancing to have fun?
Don't get me wrong. If you personally view belly dance as an extension of your spiritual beliefs, or an empowering activity that makes you feel more feminine, or even something that makes you better in bed, by all means – embrace it! Art is a blank slate upon which we can apply our own personal experiences, desires and ideals. Trouble is, when we bring too much of our own "baggage" to the classroom, everybody misses out. And we cheapen the rich, diverse culture that our beautiful art comes from. (Not to mention, too much talk about fertility and seduction brings the conversation right back to sex, which is the last thing our industry needs!)
As a baby-belly, I learned some variant on the "ancient precursor to Lamaze classes" myth, including epic accounts of a squatting pregnant woman surrounded by a circle of their friends, all sympathetically undulating and encouraging the woman to belly roll her baby into the world. It was crushing to discover no solid proof that this actually happened – and to get laughed at by Arab friends when I asked them about this version of "history." But in the end, I came out a stronger performer when I put the vibrant spirit of the Middle East back in Middle Eastern dance.
Class dismissed!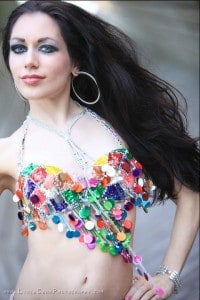 About Carrara: Carrara is a professional belly dancer offering authentic Middle Eastern dance performances for weddings, corporate functions and special events in Central Florida (Orlando, Melbourne, Daytona). Learn more about Carrara here or follow her on Twitter at @CarraraNour.