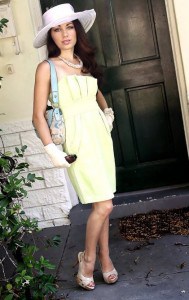 In my 7 years of performing professionally, I've been called a lot of things. Wedding expert. Life of the Party. Camera Wh*re. Bellydance Police and Killer of Dreams.
"Overnight Success" is one I hear a lot lately.
If I had a penny for every question a dancer has asked me about my "overnight success" in the wedding industry, I'd have enough to get a clue and start teaching seminars on the topic.
That is, if I had anything to teach, other than a series of vague, Socratic questions and tutorials on how to take better selfies and pug pics.
The concept of overnight success has always felt like a bit of a cop-out to me. While I can appreciate this title as the compliment that it is, the overnight success stereotype leaves all the important things out of the mix. Like hard work, talent, perseverance….and doing good work in the first place.
What is overnight success, anyway? In my opinion, it's actually a lot of pain.
Overnight success is falling on your arse, getting up again, and learning to minimize your chances of a fall next time.
Overnight success is going the distance to build something you believe in, even if important people in your industry tell you that you have a great idea, but "it's not gonna fly in this market."
Overnight success is finding an audience that suits your art, rather than modifying your art to suit an audience.
Overnight success is having the guts to charge what you're worth while your competitors are virtually giving away the farm.
Overnight success is going out and making connections, even when you're feeling shy, afraid of rejection, and too tired to go out and be social.
Overnight success is genuinely loving your clients and giving your heart and soul to their milestone events.
It's walking into a crowded networking event dressed in High Tea attire, 2 weeks after moving to a new city, and saying, "Hi! My name is Lisa….but I perform as Carrara, you see! I'm from Connecticut! Oh, and I belly dance at weddings!"….and not knowing yet that those awkward first introductions would ultimately become your biggest cheerleaders in the wedding industry.
It's a whole lot of sleepless nights for a relatively small financial return. But somehow, on a deeper spiritual level, it's all worth your while.
It's laughing and smiling to yourself when people ask you how you got to the top overnight.
(Does that answer any questions?)