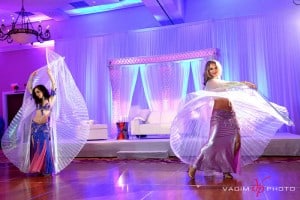 Belly dance is traditionally a solo improvisational dance form – but for some audiences, one set of hips just isn't enough! While most of my Orlando and Tampa belly dance clients request a solo show, I get a small handful of requests each year for duet and trio shows, usually for weddings and corporate events.
Aside from being fun for selfish reasons (let's face it: I could use a little company backstage and on a long drive home!), multi-dancer shows provide an extra dose of visual "oomph!" that's fitting of an opulent, Maharani-style wedding. Picture the impact of three dancers in color coordinating costumes, entering a room with lit shamadans (candelabra headdresses), or whirling in unison with colorful silk veils! (If you're not convinced, check out this clip from an Orlando Indian wedding I performed with Aisha and Vanja last June: http://vimeo.com/44713335).
Of course, a multi-dancer show isn't right for everyone. Space and budget constraints, or your personal preferences, may make a solo act the best choice for your event. A few things to consider when picking the magic number of dancers for your Florida wedding or special event:
Your Budget

– Multiple dancers do NOT equal a discount! At least, not if you want to hire a professional dance group that's serious about the success of your event. When you call a dancer to inquire about duet or trio pricing, expect to pay AT LEAST double or triple that dancer's rate, possibly more if they're sourcing their talent from a different city. Not to mention, more dancers equal more work, and some performers may build in a modest administrative fee to cover time spent recruiting dancers, rehearsing, and coordinating pre-show. In Central Florida, $800-1,000 is a reasonable cost for a trio.
Your Venue and Space: If you've booked a palatial wedding venue, a multi-dancer show might be a smart way to give guests on all sides of the room something to look at. I vividly recall "running" from one end of the room to the other at a Turkish wedding at Anthony's Pier 9 in New Windsor, NY. That night, I wished I had 2 or 3 additional dancers to engage the crowd on all corners of the room! On a standard parquet dance floor, one dancer might be more than enough. I've performed trios on a standard dance floor, and while it's doable (even with large props like wings and canes), it's a tight squeeze! In a private home, a duet or trio would be extremely challenging, and I would probably steer you toward a solo show.
Your Individual Style: Different types of shows evoke different feelings in an audience. A solo show provides a single focal point, and often a more intimate engagement with the crowd. A group show has a "Las Vegas" feel that translates beautifully to a lavish, large-scale wedding. I'll enthusiastically recommend a multi-dancer show to any client who has the budget and the space, and wants to go all out.
Last, But Not Least: Don't wait until the last minute! It's not enough simply to find 2 or 3 random local dancers that are available on your event date. A successful ensemble involves great chemistry and collaboration between dancers. When I pull together a group, I'll cherry pick dancers that are best suited to your needs. And selecting the right dancers is only the beginning! A great group show involves plenty of coordination. Please allow at least 3 weeks to plan a duet or trio performance.
Ready to book your Florida wedding entertainment? Head over to my Booking page to get started!