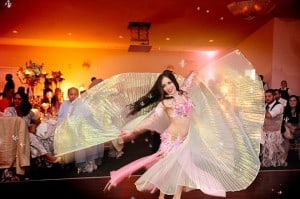 The slow days of summer can only mean one thing….it's time to start thinking about entertainment for your fall or winter wedding in Orlando! (On that note, if you haven't considered adding any sort of entertainment to your wedding, what are you waiting for? Your guests will thank you for giving them something to DO). Thanks to shows like My Fair Wedding and Platinum Weddings, which often feature glamorous live entertainment, your options are virtually unlimited, from the tried-and-true string quartets and jazz bands, to extreme options such as aerial violinists, bartenders on a flying trapeze, living tabletops and human chandeliers – but wait!
Let's explore a form of wedding entertainment that's been around a pretty long time, spans many different cultural groups, and can add a touch of glamor to any wedding reception without breaking the bank. Of course I'm talking about belly dance!
You Can Do it Anywhere: It's been said that a great belly dancer can perform in the space of a single tile. While most of us prefer a nice parquet floor, belly dance can be performed in venues of all sizes, from a small outdoor tent to a palatial banquet hall. Unlike some entertainment acts, which may require a minimum ceiling height, or elaborate staging, or a space that's safe for fire, the only thing a belly dancer typically requires is a clean floor, and a private place to change and stash our bags.
It's Safe, Low-Risk and All Venues Allow It: Always check with your venue and make sure they're OK with your entertainment choice. Many wedding venues, especially the corporate-owned hotels, don't like to mess around with potential liabilities, and some entertainment acts carry risks of their own. Many venues outright prohibit certain special effects like fire or even swords, or otherwise make it inconvenient for couples by charging fees. One venue wanted to charge $100 in administrative fees to pull fire permits for a wedding procession with candelabra! (That's when I introduced the couple to LED candles, which look just as good as the real thing). Even if certain belly dance props are banned, the show can still go on by substituting a different prop.
It's Extravagant, But Won't Break the Bank: If you're not used to hiring live entertainment, $300 might sound steep for a belly dancer to entertain your wedding guests. But if you ask your wedding planner or DJ, or poke around on a website like Gigmasters, you'll see that we're actually a more economical alternative to other glamorous and fashionable forms of entertainment. When I did some research, I discovered that a cirque act can start at $1,000 and cost as much as $15,000! While a belly dancer is not quite as bad-ass as an aerial string quartet, it's still fabulous, sparkly, and not something your guests see every day. Unless, of course, you have several friends that own hookah lounges.
It's Not Just Atmosphere, But an Exciting Full Show: As my friend Paula from Posh Able Events once colorfully explained, "There are two types of entertainment: ambient entertainment and 'sit down and shut up entertainment.'" Ambient entertainment, such as living tabletops, provides beautiful atmosphere and photo ops, with light interaction. "Sit down and shut up" entertainment is a complete show, with a structured beginning, middle and end. What do you want to get out of your entertainment? If you wish to bring your guests along on a fun and glamorous cultural journey, a belly dancer might be a great entertainment choice for you. If you want your entertainment to energize the crowd and kick start the party instead of blending in with the decor, a belly dancer might be a great choice for you.
Substance and Style: More than just sparkling costumes and lively music, belly dance can be an enlightening cultural experience, especially if you're expecting Middle Eastern guests at your wedding. The right belly dancer brings not only the right moves, but a wealth of cultural knowledge to enhance your celebration.
It's Interactive and Crazy-Fun: Looking for interactive entertainment? I may be biased, but there are very few entertainment acts as fun and engaging as belly dance. Or, really, any form of dance, for that matter! Audience participation is traditionally part of the show, and the music will make you want to get up and dance!