OK, OK, I confess: the first time I saw J&K's Wedding Entrance Dance on YouTube, I bawled like a schoolgirl. There's something to be said for a couple who can have laugh together and not take themselves too seriously, even when tradition doesn't necessarily call for a full-blown choreographed spectacle.
Since J&K's routine became famous, I've seen a few of my own clients getting their bridal parties engaged in fun, informal choreographed routines. (One of my bachelorette party groups used some of my belly dance moves in their "Bad Romance" choreography!) Even South Asian and Indian brides are adding a lot more Bollywood-style pageantry to their weddings these days!
I don't think the trend will die any time soon. Let's face it. We've all been to the same "cookie cutter" weddings where nobody dances, everyone goes home early, and all of the events are so predictable. Like many of "my" brides, you're probably reading my website and blog because you want to do something different and add a touch of your personality to your big day.
Want to join me for a solo, or send your bridal party belly dancing down the aisle or into the reception venue? Here are a few things you'll need to pull off a wild, bellydance-style bridal choreography:
A Vision:
I can help you further narrow down your likes and dislikes, but I will need to know well in advance how many girls are in your bridal party (or if this is your big solo), what level of previous dance experience they have, how much time you can set aside to rehearse, and at what point in your ceremony or reception your choreography will take place. I'll ask you plenty of questions about the theme of your event, what type of music you like, etc.
Also, it helps to have realistic goals: if you and your friends only dance at the clubs and have never attempted belly dance before, you might feel better with a brief 1-2 minute routine than a full 5-minute dance. Believe me, if you've never had to learn and remember a choreography, 1-2 minutes is a LOT longer than you think!
Free Time and a Budget:
Like all the big, showy, custom-crafted visual "centerpieces" you'll display on your big day, a group choreography can get expensive and labor-intensive on your part – but if you're looking to make a huge, dramatic statement that will blow your guests away, it's worth every penny! While rates can vary dramatically, group or solo choreography involves at least 6 hours of private lessons, plus studio rentals (if applicable) and my performance fee if you'd like to integrate my show into yours.
Beginner Belly Dance DVDs:
If you've never attempted belly dance through a class or DVD before, there WILL be a learning curve. The best way to speed up your mastery of the basic hip, torso, arm and shoulder movements is by practicing them at home with a simple DVD. This will help you make the most of your private lessons and possibly shave a bit of time ($$$) off your pre-preparation. Plus, if you're looking to get in shape for your big day, practicing belly dance is much more fun and relaxing than hitting the gym!
A Killer Song:
If you're not familiar with Arabic music, I can help you pick something fun and danceable. If you'd like to use Bollywood music or something "non-traditional" with a sentimental meaning to your friends, feel free to run it by me! If if makes you happy and if we can dance to it, then we'll use it.
The Right Accessories:
Naturally, you want to "look the part" without breaking the bank! Instead of dropping $300 or more on a costume you'll only wear once, you can buy some festive coin-trimmed hip scarves that jingle every time you shimmy. To get the best bang for your buck, buy them in bulk on eBay. You can get them for as little as $3 per scarf, and many sellers will even let you pick specific colors. (Think: your bridal party colors or something that contrasts well!) Plus, hip scarves are easy to tie on over your dress – no need to mess up your hair!
Also, consider packing some ballet slippers, ballroom dance shoes, or "dance paws" to wear on your feet if you're uncomfortable dancing in street shoes. Louboutin pumps are sexy, but they can throw off your balance when doing turns and traveling steps!
A Sense of Humor:
You're not Broadway bound. You're not competing on America's Got Talent. So loosen up, have fun, and don't forget to smile! The goal of doing a group choreography is to let your personalities and joy shine through. So if you flub up one (or more!) of your moves, fuhgeddaboutit!
Alternatives:
If your budget and schedule don't allow for a full choreography, but you still want to use belly dance to make the most of your wedding entrance or your appearance on the dance floor, consider the following:
A Zeffa – The zeffa is one of the most dramatic and fun parts of a traditional Arab wedding. In this traditional wedding procession, the belly dancer leads the bride and groom and sometimes their bridal party from the ceremony venue (or more commonly, the reception hall lobby) to the area where the couple is seated. As the dancer parades the newlyweds through the crowd, she traditionally balances a special lit candelabra known as a shamadan on her head while playing finger cymbals. The zeffa can either stand alone or serve as a segue into a full belly dance show.
A Bellydance Bridal Shower or Bachelorette Party – While it's not the same as a full-fledged choreography, hosting a belly dance workshop at your engagement party, bridal shower, lingerie shower, bachelorette party, sangeet or mehendi party will leave your guests with lots of fond memories and plenty of new moves to show off on the dance floor at your wedding.
Are you getting married in Orlando, Melbourne, or Daytona Beach? Congratulations! I'd love to help you make a lasting impression on your guests with a personalized bridal entrance choreography (or a zeffa, or a show, or whatever!) Please check out my Booking Page for more info. And P.S. – All these helpful hints apply to birthdays, Sweet Sixteens, bat mitzvahs and quinces too!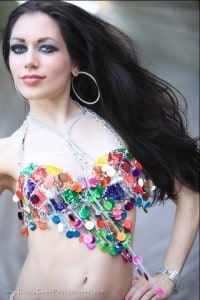 About Carrara: Carrara is a professional belly dancer offering elegant performances for weddings and upscale corporate and social events in Central Florida (Orlando, Melbourne, Daytona). Read more about Carrara or follow her on Twitter @CarraraNour.