Everything in life comes full circle. Tonight, I was at my favorite Turkish restaurant in CT, having mezze and saying goodbye to my friend Candice, and suddenly it hit me – almost exactly 5 years ago, give or take a couple of days, I was at that same restaurant, performing my first belly dance solo in public.
At that time, I was fresh out of college and I'd only been studying belly dance less than 3 years. I'm sure I was nowhere near ready to perform in public, but my teacher believed in me enough to push me out of my comfort zone and get me in front of a crowd. The anticipation drove me crazy all day. Would my audience like me? Would there be a huge crowd? Would I fall flat on my ass? Would I have a wardrobe malfunction? Would my first time performing also be my last? I never really considered myself the "put on a showy costume and perform for a huge crowd" type!
I stood there in the dingy Ladies' room, pinning my costume bra into place for security. Safety pins, don't fail me! I was wearing my first Turkish bedlah – it was copper and gold and came with a "Wonder Woman" head band. Even though I knew deep down that I looked like Princess Leia in slightly more sparkly drag, I thought I was hot stuff. But I still laughed for a minute and thought to myself, "What exactly do you think you're doing, anyway?"
My music came on. As my teacher told me, I waited in the wings for my music to build up before bounding onstage (best piece of advice she EVER gave me!) I got out there, danced, and the rest was history. That night, I drove home with a huge grin on my face – and the feeling that this was the beginning of a new era. I was officially bitten by the bug!
It's amazing to look back on yourself 5 years ago and think how little you knew back then. Even more amazing to realize that in another 5 years, you'll repeat the cycle. I've come a long way since my days of waiting in dingy bathrooms and wearing cheesy student-quality bedlah – but the butterflies haven't gone away. And all of my gigs still leave me thinking, "The best is yet to come."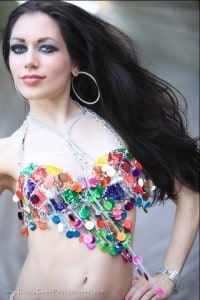 About Carrara: Carrara is a professional belly dancer offering elegant, authentic entertainment for weddings and upscale corporate and private events in Central Florida (Orlando, Melbourne, Daytona). Learn more about Carrara or follow her on Twitter @CarraraNour.