Food for thought: Would you lie to a wedding vendor to get a better deal on their services? In other words, would you call every belly dancer in Orlando and inquire about pricing for your "informal backyard barbecue," only to leave the unfortunate performer to do the math when she arrives to the scene, discovers a huge decorated Bedouin-style tent with 200 guests, and you come out to greet her in a beautiful white dress?
Tacky, yes. I knew your mother taught you better than that!
Unfortunately, as I recently discovered in Planning Forever's blog post "Lie to Your Wedding Vendors?" , this is the kind of "helpful" "advice" you might find when searching the internet for tips on working with wedding vendors. In one article, some writer (who probably has nothing to do with the wedding industry) asserts that all wedding professionals have dishonest pricing practices and actually recommends that clients lie to wedding vendors about the nature of their events in order to get bargain prices on their services. I say, give it a go if you've always wanted to appear on Judge Judy, but not if you want your vendors to deliver upon your greatest expectations!
I promise, I'm not writing this post to chew your ear off about what you should spend on a belly dancer for your wedding reception. Every couple has a different budget and different quality expectations. (Just don't expect to find champagne entertainment on a beer budget, because that's about as likely as getting a Vera Wang gown off Craigslist for free). Instead, I'd like to replace the idea of a needless markup with the reality, that experienced wedding professionals charge more to reflect the time, passion and money we pour into making your event unique, beautiful, personalized and most-importantly glitch-free. In short, I work my spangled butt off to make you happy.
(A Warning and a Tangent: The trend of unconventional wedding entertainment has brought all sorts of instant "wedding experts" out of the woodwork in pursuit of a quick and glamorous buck. Any belly dancer can say they specialize in weddings even if they've never done one before, and yes, this does really happen – so don't hesitate to ask for references, reviews, photos and/or video from previous wedding shows. And on that note, dancers, if you think weddings are easy money, wake up and smell the extra-strong Turkish coffee! If you flake, flub up, or "phone it in," you can RUIN somebody's day.)
That being said, here are the top reasons why I charge more to perform belly dance at weddings in Orlando and Brevard County:
Extra Flexibility:

Most professional belly dancers charge extra for weddings to help defray the cost of turning down other clients or taking the night off from their regularly scheduled restaurant gigs. Truth is, even the most perfectly organized weddings rarely run on time – and understandably so! You will have lots of people to see, lots of pictures to pose for, and lots of key moments to enjoy. Last thing I want to do is read you the riot act about overtime charges when you're getting ready to cut the cake. My rates allow for that extra cushion of time so I can truthfully say, "Don't stress about timing, I'm not going anywhere." That always elicits an audible sigh of relief from "my" brides!
Extra Pre-Show Coordination: In my experience performing at events of all sizes, I've found that smaller gatherings like birthday parties, graduations, and small office parties generally come together very easily over just a few e-mails and phone calls. Weddings, due to their highly personalized nature, come with their own unique creative and logistical demands. Rest assured, there will be plenty of ongoing communication between me, you, your wedding planner, your DJ, the catering hall, and any other necessary parties to make sure I pin down all of the important details and changes.

Details, Details, Details:

In case you haven't already figured it out by talking to me or reading some of my other blog posts, I'm a die-hard perfectionist and go to great lengths to personalize my wedding shows  – even if that means occasionally having to order additional supplies to better achieve the type of show we're going for. Prefab "Bellydancer-in-a-Box," I am not! Now, not everybody wants or needs a belly dancer with such a meticulous approach – but my clients are just as detail-oriented as I am, and we wouldn't have it any other way.
Unique Expertise: I'm a specialist, not a generalist. In other words, I'm not an all-inclusive entertainment agency that also manages DJs, clowns, stilt walkers and fire eaters. I don't manage a belly dance school. Heck, I haven't even done any restaurant gigs in over 3 years. I simply eat, sleep and breathe weddings and celebrations, and I pull from years of experience creating highly customized shows for high-end social functions. While I fully realize that this doesn't automatically make me the best belly dancer for every couple in Orlando, I do bring a unique perspective and a specialized skill set to the table. My clients love a great celebration as much as I do, and aren't the type to scrimp on great entertainment!
I Don't Discriminate: Just to put it out there, weddings are not the only types of shows that might have a higher price tag than just a basic party set. For instance, many corporate functions, Sweet 16s, and black-tie social events also call for extended pre-show coordination, additional sets, costume changes and other extras. In fact, if I look back on the most expensive shows I've booked, most of them were actually major corporate functions, not weddings.
Hopefully, this answers any questions you might have about why myself and many other professional belly dancers in Orlando charge more to perform at weddings than they do to dance at restaurants and small house parties. Still having doubts about paying full price for a belly dancer? Still equate low prices with honesty? Well, for what it's worth, I've fielded desperate phone calls from brides whose entertainment went AWOL on their wedding day or just days before. In all of these cases, the bride told me that she had hired a student or a careless "pro" for half of what would be considered professional prices. The old saying "you get what you pay for" is true – unfortunately, many brides don't discover why until it's too late.
Be careful out there, and happy "shopping!"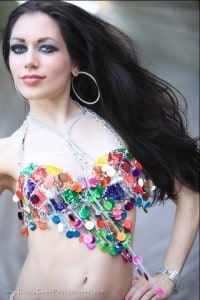 About Carrara: Carrara is an Orlando-based professional belly dancer offering elegant entertainment for weddings and upscale social events in Central Florida (Orlando, Melbourne, Daytona). Learn more about Carrara or follow her on Twitter @CarraraNour.