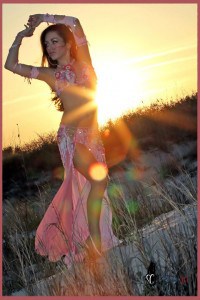 Did you know that Orlando is the second most popular destination for weddings in the USA? From a themed wedding at Disney or the Hard Rock Cafe to a garden wedding at Leu Gardens to any of the beautiful beaches in Clearwater, Cocoa Beach or Vero Beach, there's something for every bride's taste!
Naturally, some of you out-of-town brides might be considering hiring a belly dancer for your reception entertainment. My advice to you? Don't stress! If you hire the right performer, coordinating your wedding entertainment from a different state (or even overseas) should be almost as simple and stress-free as hiring a belly dancer in your own town.
Here are just a few thoughts to help things run smoothly:
1. Save Money – Go Local:
Unless you have a very specific performer in mind, it is infinitely more cost-effective to hire an Orlando belly dancer than to book somebody from your town and pay for their travel expenses. Even if you splurge and hire the most expensive belly dancer in Orlando, you'll still spend a lot less than you would if you flew in your own entertainers.
2. Do Your Homework:
When planning a destination wedding, the lack of face-to-face contact between yourself and your vendors can be one of the most stressful challenges – especially when your vendor's appearance and professionalism matter as much as they do in belly dance. Do lots of research online – this includes reading the dancer's reviews and testimonials from former wedding and party clients, watching videos of how they interact with guests at a party, checking out their photos (make sure they're recent!), and asking other wedding vendors for recommendations. For other tips on hiring the right entertainer, check out my blog post The Connoisseur's Guide to Hiring a Belly Dancer.
3. Communicate, Communicate, Communicate!
Booking a belly dancer remotely does NOT have to be impersonal. A true pro will take her time and talk in depth with you about the logistics and details of your wedding reception and where exactly her show will fit in with the timing, structure and theme you have in mind. While face-to-face meetings are ideal, I've successfully arranged many a perfect bridal belly dance show without them. For out-of-town clients, I carve out plenty of time to chat over the phone, via e-mail or even text. Want to make sure that the belly dancer looks just as good in person as she does in photos? That's why the technology gods created Skype! (Just don't judge me if you hear my pug Buddha snoring in the background.)
4. Get Everything in Writing:

I can't stress this enough. Any performer who is worth her salt will ask you to fill out some sort of contract. This is for your protection as well as the belly dancer's, as a contract ensures that the dancer will show up to your event and do everything she's supposed to do. If you're flying in from the UK to get married, the last thing you want is for your entertainment to pull a no-show.
5. Go With Your Gut:
If two dancers are equally qualified, beautiful and talented, yet you "click" much better with one than the other, don't be afraid to hire the vendor you like best. After all, I'm a firm believer that every bride should pick vendors they enjoy working with! Not only does this make the planning process a LOT more fun, but good chemistry also yields better results, which you will see on your wedding day.
6. Relax!
Book a professional belly dancer who has plenty of experience performing at weddings and your entertainment will be the LAST thing you worry about on your big day! As I always tell my brides, your ideas are every bit as important as my own and I want you to have just as much fun planning your show as I do!
Getting married in Orlando or Cocoa Beach? Congratulations! I'd love to help you make a splash with some beautiful belly dance entertainment. Please check out my Booking Page for more rates and information!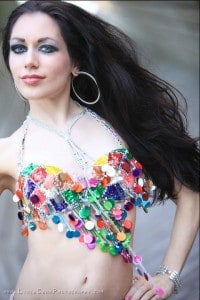 About Carrara: Carrara is a professional belly dancer offering elegant performances for weddings and special events in Central FL (Orlando, Daytona, Melbourne). Learn more about Carrara or follow her on Twitter @CarraraNour.