I don't know about all of you, but I'm ready for Spring! Even though I'll soon be living near Orlando where the weather's always warm, it's still nice to see that there's an end in sight to this winter's snow. The days are getting longer. The sun is brighter. I even saw a robin!
Naturally, Spring makes me think of my favorite belly dance gigs – that is, weddings and all the celebrations leading up to them. Today, we'll focus on bridal showers and some fun ways to incorporate a belly dance show (or even an informative workshop!) into the celebration.
Why Bellydance?
The question is, why not? With its combination of glamour, whimsy and feminine charm, belly dance goes over beautifully at many types of bridal showers – especially if your guests are Middle Eastern or if you've selected an Arabian theme. Whether you opt for a performance, an interactive workshop or a combination of both to entertain your guests, a skilled belly dancer will impart an exotic flair to your shower, all while keeping the mood light-hearted, feminine and completely classy. (On that note, you won't have to worry about making Mom and Grandma uncomfortable).
"Bangles and Baubles and Bling – Oh, My:" The Belly Dance ShowWhether you'd like the show to stand alone or to kick off a belly dance lesson (more on that later!), a belly dance performance is a perfect way to glam up any conventional or unconventional bridal shower. Picture the beauty of swooshing veils, flickering candles, fluffy feathered fans and exotic Middle Eastern music. Plus, the costumes alone are a fashionista's delight. Need I say more?
"Read My Hips:" The Belly Dance Workshop
If your bridal shower is girls-only, I suggest that you treat your girlfriends to a fun and pampering belly dance workshop. You'll learn some new moves to bring to the wedding and have lots of laughs along the way! The dancer brings the music and hip scarves (like Shakira wears), and your guests supply the attitude. Many of my clients and their guests enjoy learning a new skill and a bit of culture in lieu of traditional (and sometimes cheesy) bridal shower activities.
A Little of This and A Little of That:
If your time and budget allow, I strongly recommend booking a fully costumed mini-show in addition to the class for maximum fun. Typically, I like to perform first to pique everybody's interest in the lesson. Then, after a short break, I change into cute teaching attire and get everybody on their feet and dancing.
Timing:

If you're booking only a performance, I find that this works best either as an icebreaker before everybody sits down to eat, or as a brief interlude between the seated meal and gifts. Workshops, with or without a show, are more time consuming and tend to work out best after everybody has eaten.
Extras:

Not necessary, but definitely fun:
Indian Invitations: Spread the word in style. I am loving these Indian and Persian-inspired couture designs by 3 Bees Paperie!
Set the Mood: Decorate your space with luxurious draped fabrics, cushions, and Oriental-style rugs. Burn some scented incense. Pass out stick-on jeweled bindis to get your guests looking and feeling festive.
Mendhi Cookies: Seriously. How cute are these henna-inspired cookies? Great DIY baking project to do by yourself or with friends and family the day before.
Interested in hiring a belly dancer for your bridal shower in Central FL? Check out my booking page for more information!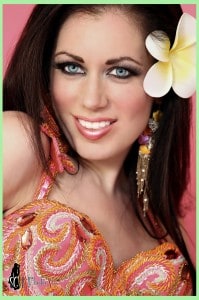 About Carrara: Carrara is a professional belly dancer offering elegant and authentic performances for weddings and special events in Central FL (Orlando, Melbourne, Daytona). Click here to read more about Carrara or follow her on Twitter @CarraraNour.