You're probably wondering why this post isn't called Questions to Ask a Belly Dancer. (I promise, that's coming up next!) If you're like a lot of the brides I work with, you have a distinct vision for your event, and you've cherry-picked just the right venue, wedding planner, DJ, caterer and florist to bring that vision to life. Similarly, there's an art to hiring a belly dancer for your wedding, and there are things to consider before you even make the first call, and there are questions to ask yourself.
What's My Story?

This is a "no, duh" question, but many brides have some compelling reason why they are hiring a belly dancer for their wedding. Maybe you and your fiance saw a belly dancer at the restaurant where you had your first date. Maybe you're having a Casablanca themed reception and you're hiring Middle Eastern entertainment to make the event larger than life. As "your" entertainer, I like to know these things so I can better structure my show. (And your DJ might like to know the story so s/he can make a nice personalized introduction to my show).

What's My Style?

Bear in mind that there's not just one style of belly dance. Do you want your belly dance performance to be authentic? Americanized? Elegant? Over-the-top? If you can put this into words, this will help you book a show that fits right in with the overall feel of your event. If you're booking a belly dancer to create a sophisticated Egyptian ambiance, a troupe of fire eating, burlesque-fusion belly dancers who perform to techno-flavored music might confuse your audiences and leave them asking what exactly they just saw.
What's My Budget? While rates may vary from region to region (and in some cities, from dancer to dancer), plan to spend roughly $300-350 on a belly dancer for your wedding reception. Of course, you don't HAVE to pay that much. If you want to shave $100 off your entertainment budget, just call around. What's the catch? The connection between low prices and low quality is pretty much a given in the belly dance world. While a belly dancer's fee is just a fraction of your total wedding budget, her show will set the tone for your entire celebration – good OR bad. If you don't have the budget, I'd strongly suggest that you err on the side of caution and save your money instead – or use the money you saved to upgrade some other service, like your favors or invitations.

What's My Schedule?

Are you looking for a short performance during your Cocktail Hour? A full-length show after you cut the cake? An entire evening of entertainment? While I can help you work out the details, you'll make my job easier by sharing some ideas for the timing and duration of your ideal show. Bear in mind: The average wedding reception is roughly 4 hours long. A 60-minute belly dance show will seem like a great idea in theory, until you realize that's 25% of your reception! When in doubt, shorter is better.
Hopefully these tips will give you some direction as you plan your wedding entertainment. Getting married near  Orlando or Melbourne, FL? I love to chat with newly engaged couples, so feel free to drop me a line any time!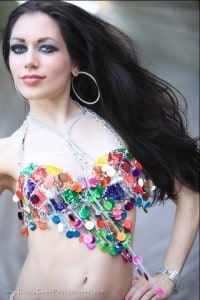 About Carrara: Carrara is a professional belly dancer offering elegant performances for weddings and special events in Central Florida (Orlando, Daytona, Melbourne). She was an elite wedding and party entertainer in Fairfield County, CT and now brings her unique expertise to Florida's discerning brides. Read more about Carrara here or follow her on Twitter @CarraraNour.