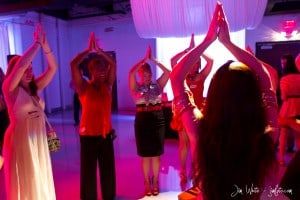 Everyone's shopping for cocktail dresses, making their reservations, and possibly even making their resolutions! It's that time of the year again. Time to start planning those New Year's celebrations!
Glamorous live entertainment is always in style, and New Year's Eve is one of the most popular times to hire a professional Orlando belly dancer to dazzle the crowd. But wait! Before you start making those calls…a brief pop quiz.
Question: What's the lowest price you should expect to pay for a professional belly dancer in Orlando to perform a 20-30 minute show at a holiday party during the peak hours of 11 p.m. – 1 a.m. on New Year's Eve?
A) $100
B) $200
C) $400
If you guessed C ($400), you are correct. If you picked B ($200), this would be the correct answer any other day of the year! And if you picked A ($100), that's pretty cheap and there's a good chance you'll get what you paid for!
Many prospective clients ask why I charge more for a show on New Year's (or Christmas) than any other day of the year – especially since the sample pricing on my website is much lower. So why do belly dancers charge more on New Year's?
The short answer?
Its nothing personal. Just basic supply and demand. A few examples we can all relate to are airfare from Thanksgiving through New Year's, or roses before Valentine's Day. If you're hiring a caterer, DJ, or other vendor for your holiday party this year, odds are, they'll charge more for holiday bookings too.
The long answer?
Professional entertainers are self-employed freelancers, whether they do it full-time or part-time. We don't get paid vacation days, or holidays off, or double pay for working on New Year's or Christmas. The majority of us choose to take this matter into our own hands. Remember: wedding and event professionals work virtually every weekend of the year, and often on holidays. We sacrifice time with friends and family to make YOUR events that much more wonderful. While most of us happily choose this career path with no regrets, we do put a premium on our time – and this is especially true for my dancer-friends who have little ones at home. If your boss asked you to work or be on-call on a major holiday, when you would otherwise be spending time with family, you wouldn't turn down any extra compensation that might be offered! So please be kind and understanding when higher price quotes come in, even if the performer you wanted is not in your budget.
The brutally honest answer?
Let's work backwards. If most dancers charge $400 for a show on New Year's because their services are in demand and they hold their business to the same standards as anyone else who is working on a major holiday, then what type of dancer would do the opposite and charge $100? How many shows is she doing in one night to make what most pros would in 1 or 2 normal-priced bookings? How do you think the average belly dancer would look, feel, or perform at your event after she's already danced at 4 other gigs and is rushing off to Gig #6 after your party?
If you want a professional dancer who will make your party rock, the only answer is to pay professional rates! You will be happy you did. A quality belly dancer will make your New Year's party the one everybody raves about for years to come. And having great entertainment makes YOU look good!
Want to learn even more about why we charge what we do for holiday bookings? For the inside scoop, please click here to check out my latest post on my brand new business and op/ed blog for belly dancers, Shoot From the Hip.
Got any questions? Comments? Complaints? I'd love to hear them. 'Til then, have a safe and happy holiday season!
Carrara
Fan Page: https://www.facebook.com/OrlandoBellydancer