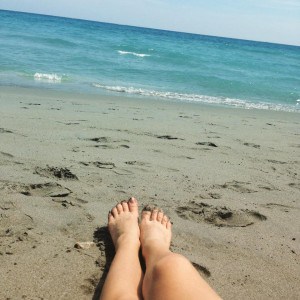 See that picture on the left? That was me this past weekend. Those were my toes in the sand. And the picture doesn't do that water a justice.
I got to spend a perfect Sunday afternoon at Spanish River Beach in Boca Raton. I had no agenda, other than to collect coral and shells, and make it back to my boyfriend's convention gig in time for a surprise photo shoot that his generous photographer friends Greg, Gary and Art had planned for me.
Let me fill you in on a little secret: I nearly had to be dragged there, kicking and screaming.
When my other half asked me to come to Boca for a convention that he was shooting, I was so excited, I could nearly smell the salt air and taste the mojitos! But then, the last-minute party requests started coming in Thursday night. First, a Bikini Block Party! Then, an Indian restaurant gig!
And then, the panic. The endless loop of guilt. Like many wedding and special event vendors, I hate turning away business, and wish I could say yes to every client. But I can't.
I've been assured by many small business owners that I'm not alone. Creative entrepreneurs, for better or worse, have nonstop personalities. We live with our phones glued to our butts. We leave our weekends open for gigs even 2-3 days out, because somebody might need us for a last-minute event. And Heaven forbid, we miss a business call during a gig, or a meeting, or a photo shoot, or a date night, and can't get back with the client within the hour. A billion catastrophic outcomes race through our minds. Will a competitor get the gig? Will the client lose interest? What if I miss dancing at the Gig of a Lifetime?
Busy-ness has become the ultimate status symbol in the creative world. But what happens when we prioritize the pursuit of gigs over other aspects of our personal lives, every single time?
In my nearly 10 years of doing this, I've come to take comfort in one thing: work, clients, and responsibilities will always be there, even if you step away for a moment. Life, love, and family may not.
Opportunities come and go. Kids grow up too fast, and parents grow old. Relationships can dissolve if you aren't careful to nurture them. Tomorrow's never guaranteed. And in the grand scheme of things, an entertainer's professional "shelf life" is far too short to be filled with anxiety and ruled by the fears of missing out, on gigs and on life.
With *ahem* "maturity," I'm slowly letting go of these fears. More importantly, I'm realizing, sometimes the painful way, that life is full of beautiful, precious moments that you'll never get back. In our missions to create memories for our clients, we forget to save just a few joyful moments for ourselves. Joy as a driving force in my artistic process. When we appreciate the beauty around us, in people, places, things and occasions, we radiate these good vibes in our everyday actions and especially onstage.
I'm not here to tell you how to run your business or what to do with your down time. But are you feeling burned out, frustrated, and "stuck" in your dance? Do you feel pressured to say yes to every booking, even at the expense of your health, your sanity and the quality of service you provide your current clients? I have a simple solution.
Put down your phone. Or better yet, put it on Do Not Disturb.
Go for a walk on the beach. Collect tons of shells.
Invite a long-lost friend over, laugh, reminisce, and kill a bottle of wine.
Catch fireflies.
Take a long drive with somebody you love – with or without a destination in mind.
Teach your kids to fish. Or have your dad teach you to fish.
Those emails will be there at the end of the day. The person sitting next to you may not.
Carrara