Your browser must support javascript.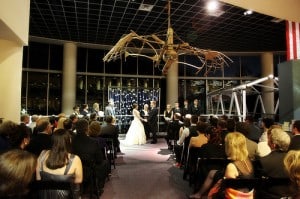 Having a belly dancer at your wedding is a definite sign (especially if you're not of Middle Eastern descent!) of a creative wedding celebration.  There is absolutely no rule that your wedding must follow a "same-old, same-old" formula – although this does work for many brides, and that's fine.  However, if you want to have a wedding that's really reflective of the two of you, and have your guests talking about your event for years to come, be sure to work with creative vendors who offer services that are "off the beaten aisle!"
As a wedding officiant for over 30 years, I can tell you that getting your wedding day off to a great start involves having a ceremony that is one-of-a-kind.  The only legal requirements for a wedding ceremony are your consent to be married, and the officiant's pronouncement of you as husband and wife – the rest is totally flexible!
Ceremonies can include humorous verse, lines from movies, talk about hobbies and interests, special people or pets – the possibilities are endless!  A good officiant gets to know you, listens to your story and ideas, does their research, and then "constructs" a ceremony that's unique for the two of you.  From there, they work with you, making any changes or modifications necessary, until your ceremony is 100% perfect, and will flow smoothly from beginning to end.
Think about it – would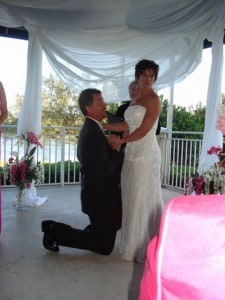 you rather go to a wedding where you can practically repeat the ceremony from memory (yawn!), or would you rather go to a ceremony where you're leaning forward in your chair, listening to one-of-a-kind nuptials that really reflect the couple who's getting married?  You might smile, laugh, cry (happy tears, of course!), and even participate in the ceremony by saying "I do" as part of the community to approve the couple's marriage.
Having an officiant who is willing to spend the time and effort necessary to make your ceremony unique and creative is an essential part of getting your wedding day off to a fantastic start.  Add to that other creative vendors who are willing to go the extra mile for you, and you'll have a wedding day to remember!
About Renee: Renee Silverman is a wedding officiant with A Lovely Ceremony, based in Central Florida.  Her website is www.lovelyceremony.com.  She can be reached via email at lovelyceremony@cfl.rr.com, or by phone at (386) 789-2062 or (386) 717-0303.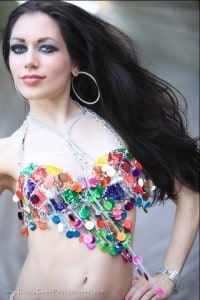 About Carrara: Carrara Nour is a professional belly dancer offering elegant, authentic entertainment for weddings, corporate functions and social events in Orlando and Central Florida. Unique wedding entertainment is her specialty, whether your wedding is American or Middle Eastern, traditional or non-traditional. To hire a belly dancer for your Orlando wedding, check out Carrara's Weddings Page.