I don't know about you, but I'm feeling the love. It's the day after Valentine's, and I saw quite a few Facebook relationship statuses change from "in a relationship" to "engaged."
Are you wearing some new jewelry today? Did you just say "yes?" Do you want to rock your engagement party with glamorous entertainment? This blog post is for you!
Even though your wedding day is the Main Attraction, a unique engagement party with live entertainment will set the tone for a gorgeous and unforgettable celebration. San Diego belly dancer Sabrina says, "In many cultures, the engagement party is just as important and lavish as the the wedding reception. Inviting guests to a warm evening of music and dance is a memorable way to celebrate you exciting announcement."
With its upbeat music and lively, tasteful interactivity, a belly dance show can be a great way to break the ice between two families. Central Coast belly dancer Mary says, "Whether formal or informal, engagement parties are meant to be fun! Be sure to include activities that encourage mingling, especially between you and your fiance's families. This may be the first opportunity some of them have to meet."
If you or your fiance/e are Middle Eastern or Indian, a belly dance show can be a heartwarming way to welcome your new family with a vibrant tradition from your culture – especially if you combine the belly dance show with live Middle Eastern music, Middle Eastern or Indian food, and colorful, exotic decor! A belly dancer might also be a great choice for your engagement party if you met or vacationed together in the Middle East, if your wedding has a Moroccan theme, if you are die-hard Egyptophiles, or if you simply love the arts and other cultures.
Looking for more inspiration? Here are a few resources to guide you:
A Middle East Meets Midwest Engagement Party from the "Inspired By This" Blog
Creative Moroccan-Themed Engagement Party Ideas from The Wedding Bistro at Bellenza

Moroccan Engagement Party Themes from Stylish Eve
Looking for an Orlando belly dancer for your engagement party? Check out my Booking and Weddings pages for more information!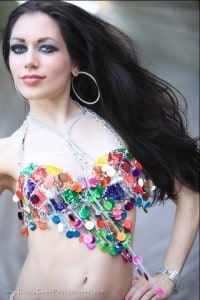 About Carrara: Carrara is a professional belly dancer offering elegant, authentic entertainment for weddings and social events in Orlando and beyond. Multi-cultural weddings and events are her specialty! To learn more, check out her Booking or Weddings page, or follow her on Facebook.