You don't need a reason to hire a belly dancer. "Just because" is a totally thoughtful reason in and of itself!
But as a multi-cultural entertainer, I find that a lot of my most memorable and meaningful work takes place when I pair up with a client who has a vision above and beyond just a beautiful show. After all, a good belly dance show can offer so much more than just an opportunity to put the Guest of Honor in the hot seat and dazzle the crowd with tricks. If done right, a belly dance performance can also be an enlightening experience that brings people of different cultural groups together!
On December 30th, I brought some Florida sunshine to a Brazilian and Persian family gathering at the Hotel Delamar in Greenwich, CT. Belly dance, samba dancers, and a Persian DJ spinning non-stop Iranian music, all at one of Fairfield County's most elegant little boutique hotels….does it get any cooler than that? Oh, yes, and did I mention this was for a lucky little 2-year-old girl's birthday party?
Cris C. from Stamford, CT is one of the coolest, most creative clients I worked with in 2011. We met by accident (I still rank very high on Google searches for Connecticut), and as luck would have it, I was planning on staying with my family in CT for the Holidays during that time, anyway. With a bit of tweaking to my travel plans, I was able to stick around an extra day and help Cris make her adorable daughter Zary's birthday party sparkle.
What I loved about working with Cris was her enthusiasm and her creative input. We bounced a lot of ideas back and forth and had a great time planning the creative details of my show. Every time I got off the phone with her, I had a silly grin on my face! She really gave her all to honor her little girl's diverse cultural background in a way that the children and adults in the crowd would love. Let's be real: we all know what it's like to awkwardly sit through Dora the Explorer parties for family and friends with small kids. Entertaining the adults is just as nice as keeping the kiddos happy! And judging by the number of people cutting loose on the dance floor, I know she achieved this goal and much, much more.
The Details:
My Show: Think: pretty Lebanese-flavored cabaret belly dance with a tropical twist and (TSA-approved) belly dance props for added excitement. We went with a lively entrance with zills, a veil dance with rainbow-colored silk, a candle dance, a samba-flavored drum solo, and some Persian pop music for fun. I wore a rainbow-colored sequin costume previously owned by Lebanese movie star Nadia Gamal, with hair flowers and tons of multi-colored rhinestone jewelry. Gorgeous samba dancers even joined me for my final song!
Samba! The sequins! The feathers! The high heels! Those hot Brazilian dance moves! What can I say? I love watching samba dancers, and the ladies at Tropicalia Entertainment of NYC brought the Rio heat in such a fun, classy way. Adults and kids loved their show! I had a blast bonding with them before and after my show!
The Music: DJ Farshid (Mikhake Noghrehei) of NYC spun a perfect mix of American Top 40 and Iranian classic and pop party standards, and kept the party going all night. I loved his smooth, classy emceeing style.
The Venue: The Hotel Delamar on the picturesque Greenwich Harbor was the perfect venue for an elegant birthday party. It's no surprise that so many celebrities stay there: the service is top-notch and the ambiance is relaxed, Old-World European elegance, all the way. The banquet hall was lovely, and bonus! The property is dog-friendly. One of the prettiest Connecticut wedding venues I've danced at.
The Catering: This party, like many events at Delamar, was catered by L'Escale, an independently owned restaurant on the hotel property. While I couldn't stick around long enough to have a bite to eat this time, L'Escale has been one of my favorite restaurants in lower Fairfield County for years. Their risotto is the stuff dreams are made of, and you could sit on their patio in the summer and daydream while gorgeous yachts sail by. I have many fond memories associated with that place! Chan is the catering manager of L'Escale and he was totally accommodating, helpful and wonderful to work with. (He even helped me track down my MIA finger cymbals, with a smile!)
It was an honor to end my 2011 dance year in my home state, and with a "bang." Cris and her family know how to celebrate life, and let's just say, if little Zary grows up with an incurable addiction to sparkle and dance, then this was the defining moment that started it all!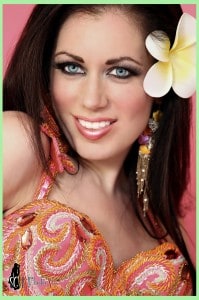 About Carrara: Carrara is a professional belly dancer offering elegant, authentic entertainment for weddings and social events in Orlando and beyond. Multi-cultural weddings and events are her specialty! To learn more, check out her Booking or Weddings page, or follow her on Facebook.