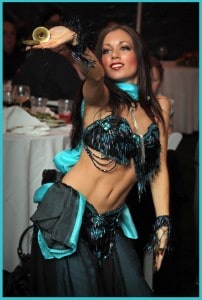 Picture this. You're having a Casablanca-themed Holiday celebration – and naturally, you want your big party to be the one that everybody raves about! You've arranged for a giant, extravagantly decorated tent. You've selected a caterer known for their exotic Mediterranean cuisine. You've spared no expenses on a photographer to preserve the memories. And, of course, no Mid-East celebration is complete without a belly dancer! But where do we begin?
When booking a special event, your entertainment is just as significant of an investment as your DJ, photographer, caterer or other major vendor. A belly dancer can dramatically set the tone of your wedding or party – for better OR for worse. There are a lot of professional belly dancers out there, and the selection ranges from seasoned professionals to – well, use your imagination. Needless to say, booking quality belly dance entertainment can feel like a daunting task!
Below, you'll find a few valuable tips for selecting exciting, professional and reliable belly dance entertainment.
Do Your Homework – Most belly dancers advertise online, either through their own websites or on event planning directories like the BBB-accredited online booking agency Gigmasters.com. Also, ask friends and colleagues for referrals. When narrowing down the pool, make sure to read a dancer's bio, look at her photos, preview videos, and read testimonials from previous clients. (Note: even testimonials can be fabricated, written by friends and family, or artificially solicited through contests and giveaways. Be wary of reviews written by other belly dancers, or testimonials that seem "too good to be true." Quality trumps quantity!) Once you've found a viable prospect (or a few), the best way to assess the overall fit is to chat with the dancer via e-mail, on the phone or even in person. While credentials can be overwhelming, and while any belly dancer can cheat the Gigmasters rating system or pad their resume until it resembles a Who's Who of Middle Eastern Dance, your best bet is to pick a talented, creative, accomodating, reliable and professional entertainer with a track record of excellent customer service and delivering great results. A lengthy list of awards and dance-industry accolades does not fully guarantee the best entertainment experience for your event. Always hire a belly dancer who makes you feel comfortable and shows an interest in making your event successful.

Go for the Glam –

If you're having a lavish event, your entertainment must be dazzling. Just to be clear, I

don't

recommend hiring an entertainer based on looks alone. However, professional-caliber costuming, hair and makeup are an essential component of a dancer's professional presentation. Proper stage makeup and sparkling costumes serve not only a glamorous purposes but a utilitarian one as well, allowing your guests to see the dancer's beautiful eyes, smile and movements under a variety of lighting and seating conditions. A performer who shows up to your event in amateurish costuming or in plain office makeup lacks the dynamic visual impact of a dancer who's polished from head to toe. And while we're on the subject of image, make sure all of the dancer's promotional photos are up-to-date and show her entire face and body. The last thought that should cross your mind when the dancer shows up is, "Wow, you sure look different than you do in your photos!"

Don't Wait Until the Last Minute!

Sometimes, last-minute decisions are inevitable. This is why I try my hardest to accomodate even the most extreme last-minute bookings. But if you're ready to book, I encourage you to do so ASAP, even if your event is several months out. This is especially true for weddings. Most of us only have a limited number of time slots on any weekend and fill them on a first-come, first-served basis. And if we're not gigging, we're often out of town, attending training workshops and seminars. Thus, booking at the extreme last minute only decreases your chances of hiring the performer you want, increases the likelihood that you'll have to pay a last-minute booking fee, and makes your party planning more stressful. So what are you waiting for? Scratch that item off your To-Do list and move on.

Beware of Falling Prices!

Saving a bundle of money on entertainment might sound like a good thing, but be warned: you get what you pay for. While I'll save the number crunching and business ethics for another post, it costs a small fortune just to maintain a professional standard for costuming, training and marketing. A performer who dances for free or at a deep discount most likely doesn't hold herself up to the same high standard, whether she's an eager-yet-clueless beginner student, a pro who takes little pride in her work, or otherwise, an unethical businessperson who deliberately undercuts her competition. Would you trust your party entertainment in any of those vendors' hands? To quote one of my friends, "cheap dancers dance cheaply." Unless you're willing to risk embarrassment or disaster, I urge you to shop with caution. Word to the wise: In the CT/NY metro area, you can expect to pay around $225-300 for approximately a 20-30 minute private party show, or $100 for a restaurant set. To get a feel for pricing everywhere else in the world, check out Samira Shuruk's comprehensive guide to rates by region.

Don't Do Anything Without a Contract

– While this may vary from region to region, most professional belly dancers won't hold a date for you until they receive a signed performance contract and/or a deposit. And as I tell my clients, contracts are for your protection, not just ours. Exhibit A: Once, I received a frantic last-minute phone call from a bride whose entertainment went MIA on her big day. I already had a show booked out of town that night and felt absolutely terrible that I couldn't help her. Unfortunate as this scenario may be, it's not exactly uncommon, and it likely could have been prevented if the bride hired an entertainer who formally committed to holding the date.
For brevity's sake, I've focused this post on making your selection. Stay tuned and I'll address the logistical aspects of entertainment planning – planning the look and feel of a show, crowd control, tipping, etc.
Happy Booking!
Carrara