Some people get presents on Christmas morning. I get client emails, which sometimes, can be every bit as exciting! Especially if it involves an Indian wedding (one of my absolute favorite types of gigs), and especially when you can instantly tell that you're working with a really cool, cultured and interesting couple. Time has flown by so fast since I first responded to Vick's request for wedding entertainment, and this turned out to be one of the most beautiful weddings I've performed – the kind of gig that actually makes you a little sad when it's all over!
What I love most about belly dancing at Orlando weddings is that my dance is an instrument to bring people together, often from different cultures and different parts of the world. And this was exactly the sentiment Vick and Tina shared with me when we first met to discuss their entertainment plan for the Moroccan-themed dinner dance following their Sindhi engagement ceremony. Vick lives in the West Indies, and Tina lives in Morocco, and their guests were coming from all corners of the globe to celebrate. They wanted not only to help their diverse group of 350 guests break the ice, but to kick off their 5-day shaadi with a bang!
In the 6 months leading up to the wedding, I worked very closely with Tina to coordinate music and what I often call "the girly details." (Amazing in hindsight to think that we did almost all of this via email!) Tina is fond of Egyptian music, and it was crazy-fun to conceptualize a "Cairo via Bollywood" show, featuring Egyptian classics made flashy and sassy and bold for an Indian event. At times, this was also a bit challenging! As a rule of thumb, "less is more" in Egyptian dance, and "more is more" at an Indian wedding. An Egyptian-inspired zaffa wedding procession with shamadans (candelabras) was a great focal point to fuse the two styles together, and the rest of the show fell into place from there. Wings, veils, cane and Bollywood music for audience participation made for the perfect marriage of Egyptian tradition and Indian glamor!
The couple requested a trio of dancers, and I couldn't have done this show without Orlando belly dancers Vanja and Aisha. Being new to the area and predominantly a solo artist, I threw a hail mary pass and asked Rhonda of Shimmy Girls to help me pick the best belly dancers in Orlando for an Indian wedding. I ended up with two amazing new friends who each brought their own energy, ideas and styles to the table.
Add some dreamy Moroccan decor, nonstop energy and killer music from DJG Kilogram of Mumbai (who has toured with the likes of Akon and Pitbull), and a team of world-class planners working 'round the clock to keep the guests and vendors happy (shout-outs to Nirjary and company at KIS (cubed) Events), and you get one amazing party. What a perfect way for Vick and Tina to kick off 5 days of celebration and a happy, healthy and prosperous new life together.
The show was a blast, and by the end of the show, we filled not just the dance floor, but the space around it. Happily, Joe Marolis with Elegant Entertainment DJ and Video Services Orlando was there to capture all the action and share the beautiful footage with us!
Carrara Nour Professional Belly Dancer and Friends from Elegant Entertainment Orlando DJ on Vimeo.
I would also like to thank the following vendors I worked with for their professionalism and top-notch work. If I'm missing any credits, please let me know!
Venue: Orlando World Center Marriott
Decor: Jilna Patel, Suhaag Garden (Orlando/Miami)
Wedding Planning/Coordination: KIS (cubed) Events (Atlanta)
DJ/emcee: DJ G Kilogram (Mumbai)
Catering: Marriott and Memories of India (Lake Mary)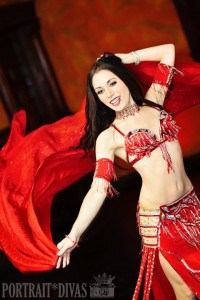 About Carrara Nour: Carrara is an Orlando-based belly dancer offering custom entertainment for weddings and glamorous events. For more information, check out her Weddings Page or find her on Facebook or Google Plus: Carrara Nour+