Every era in belly dance fashion has its own unique bra debacle. We have seen cones, dinner plates, footballs….even pasties on those frightening old Port Said album covers from the 1960's.
Today's challenge for many of us – either on the lesser-endowed or "cups runneth over" end of the spectrum – is the popular "Dina" style bra, so aptly named for the voluptuous Egyptian superstar. The "Dina" is known for a wide, deep, U-shaped plunge between two tall, rounded cups. As the cups themselves are often shallow and oddly shaped, and the halter straps are typically set about a mile apart, Dina bras are notorious for causing unsightly gapping. Plus, for A-cups or smaller, the wide space between cups and side straps can simply emphasize a flat chest and a shapely sternum. Unfortunately, too many of these costumes end up for adoption on the Bhuz Swap Meet or otherwise orphaned in the giant "To Do" Pile in the sky :(
Most of today's costumes, barring Pharaonics, Bellas and Sims, have these odd bras. So we may as well learn how to beat them at their own tricks, right?
Here are a couple of fixes that I've found to be helpful:
1. Move and Angle Neck Straps – Simply detach the straps and move them in a little closer to the center of the cup. Angle toward the center of the bra. Re-attach. And don't be surprised if it takes a little "trial and error" to get it right.
2. Add Wire to the Bra Edges – Have you ever noticed how many Bellas, Sims, and other Turkish bras have such a beautiful fit on all different types of women? Most have some wire along the top edges. You will need to rip out the lining of your bra and attach some heavy-duty wire along the top edges. I like florist's wire from the craft/hobby store. I've also heard that a wire coat hanger can work. Stitch it in, close up the lining, and note how nicely your bra conforms to your shape.
3. Padding – Attach to the sides and bottom of your bra. You can use pre-made pads from the fabric store, poly stuffing (for pillows and teddy bears), or even cut up an old Wonder Bra and sew in the cups. Nothing like a bra inside a bra to give the "girlfriends" a lift!
OK. So you tried all these things and it still doesn't look right? The following may be a little more extensive, but work like a charm if you're willing to modify the overall shape and lines of your bra:
1. Add a Second Set of Straps – This can actually look cute if you integrate a second set of straps into the overall design! Just take a piece of grosgrain ribbon, about 3/4″ wide, and cover it with decorative fabric that matches or complements your bra. Attach from the center top of the cup to the neck strap at a 45-degree angle – this will hit somewhere near the nape of the neck. Repeat on the other side. Decorate with beads and rhinestones that match your costume and nobody will know this was an "aftermarket" addition!
2. Add a Center Piece Between Cups – Take a piece of wide elastic or grosgrain ribbon and attach it between cups. Cover with matching fabric and embellish it if you wish. You can even hide this with a flashy brooch, applique, silk flower, or feathers. This lessens the appearance of the plunge and makes the bra a little more figure-friendly for anybody who prefers more coverage. Great for fuller-figured dancers and for petite women, as well. (When you don't have a whole lot of cleavage, a deep plunge only emphasizes that).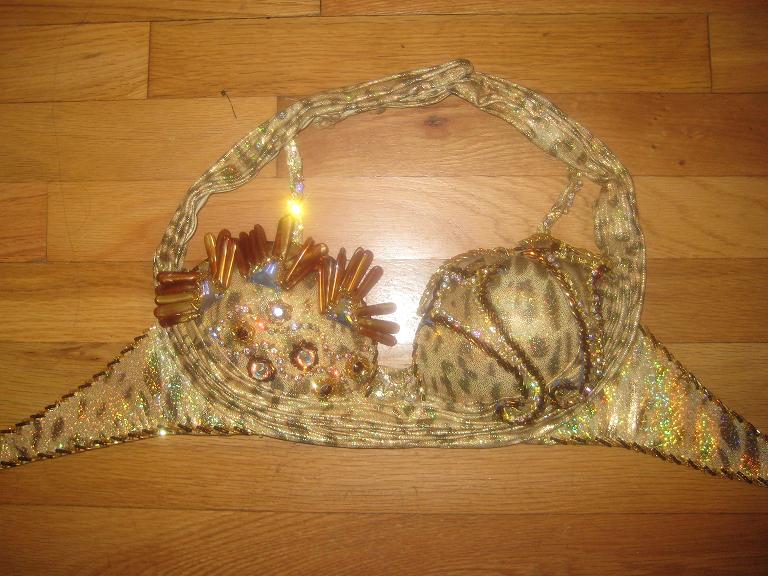 Above, you'll see my new leopard print Eman, complete with all of the above adjustments. Bear in mind that every body and every costume has a different shape and you might have to experiment before you get it right. Hopefully these tips will help you as much as they've helped me!
Yours 'til they make a costume bra that fits human breasts…
Carrara Nour