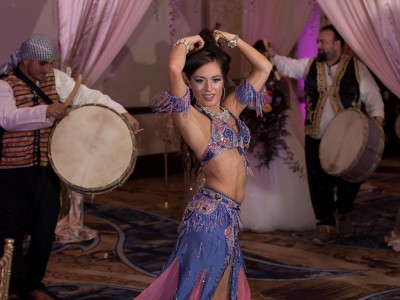 Wedding Zaffa Dancers in Orlando
When it comes to wedding entertainment, I've noticed two hot emerging trends:
1. Bigger is better! Dance ensembles are a hot ticket item right now.
2. Couples are embracing their cultural roots with authentic entertainment.
It comes as no surprise that the zaffa, a traditional Arab wedding entrance, is making a big comeback!
So What is a Zaffa, Anyway?
While every Middle Eastern country puts its own unique spin on the zaffa (more on that later), it is a traditional wedding procession leading the newlyweds and the entire wedding party to the reception hall, usually starting outside the venue or in a hotel lobby. (Warning: You will turn some heads if you do a zaffa …