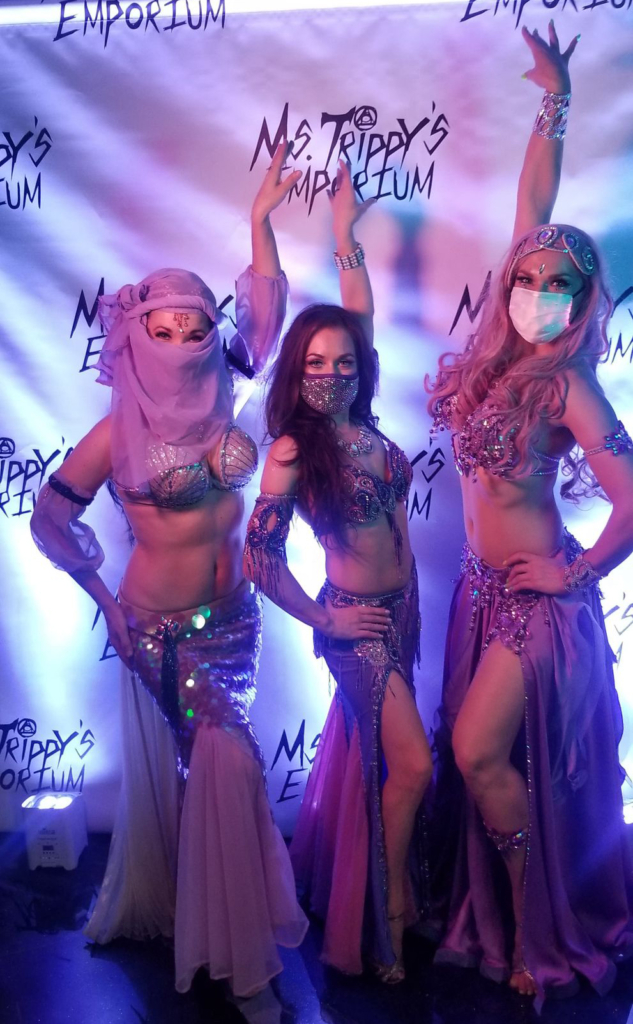 Covid-19 Policies for Orlando Belly Dance Shows
Belly dancers: Making mask mandates look good since 2020.
Have you heard the news? I am open for business and ready to perform at your wedding or special event! My performance style is constantly evolving with the "new normal," so here's just a brief rundown of my Covid-19 policies and what you can expect from a show. (Spoiler Alert: Not even the 'rona will stop us from having fun!)
Mask Policy
I am currently following CDC guidelines for vaccinated individuals, which means I will no longer require a mask for outdoor shows. I will still wear a mask indoors or any time I expect to be in contact with clients, guests or vendors before or after the show. (Or if you or your venue want me to mask up). Of course my masks will be fabulous. From harem-style face veils to rhinestone-encrusted or LED masks, there are so many ways to integrate stylish PPE into belly dance attire and make it look like part of the costume.
Performance Space Requirements
Per CDC guidelines, I will require at least 6′ of distance from your guests at all times throughout my performance. An ideal performance space would be a large, open venue (or outdoor space) with a designated stage or parquet dance floor away from the crowd.
Making Audience Participation Safe and FUN
In case you were wondering, YES! My shows still include audience participation. Guests are welcome to gather around the edge of my performance space and I encourage everyone to dance, clap along with the music, and interact with the show just as we would normally do. I will still put your friends and family in the hot seat and teach your friends to shimmy like a pro. (If people don't want to get up and dance, I won't force them either). The only thing we still need to watch for is huge crowds on the dance floor, so when I pull people up to dance, I'll do it one at a time or in smaller groups.
Additional Covid-19 FAQ's
Do you have any event size restrictions?
Generally speaking, the size of your performance space is more important to me than your guest count. A typical wedding or event of up to 100-150 guests can be done pretty comfortably as long as there's enough room for social distancing.
Are there any types of events you DON'T do right now? 
As the Covid-19 situation changes, I am evaluating every booking on a case-specific basis. Unfortunately, I'm still turning down certain types of events where the risk of exposure is too high. These events may include:
Hookah lounges (or smoky nightclubs, or any indoor venue with poor ventilation and lots of people smoking).
Very large gatherings with hundreds of guests (conventions, festivals, super-sized weddings, etc.)
Atmospheric Entertainment (bookings with a strong emphasis on strolling entertainment, photo ops and audience meet-and-greet).
Will your shows get back to "normal" in time for my event? 
Hope is in the air, shots are in arms, and this is the million dollar question! While I can't make any guarantees, I am revisiting my COVID protocol on a weekly basis and hoping to make significant changes by the end of May. In any event, I encourage you to read my COVID policies and be aware of any potential restrictions that may still apply to your event.