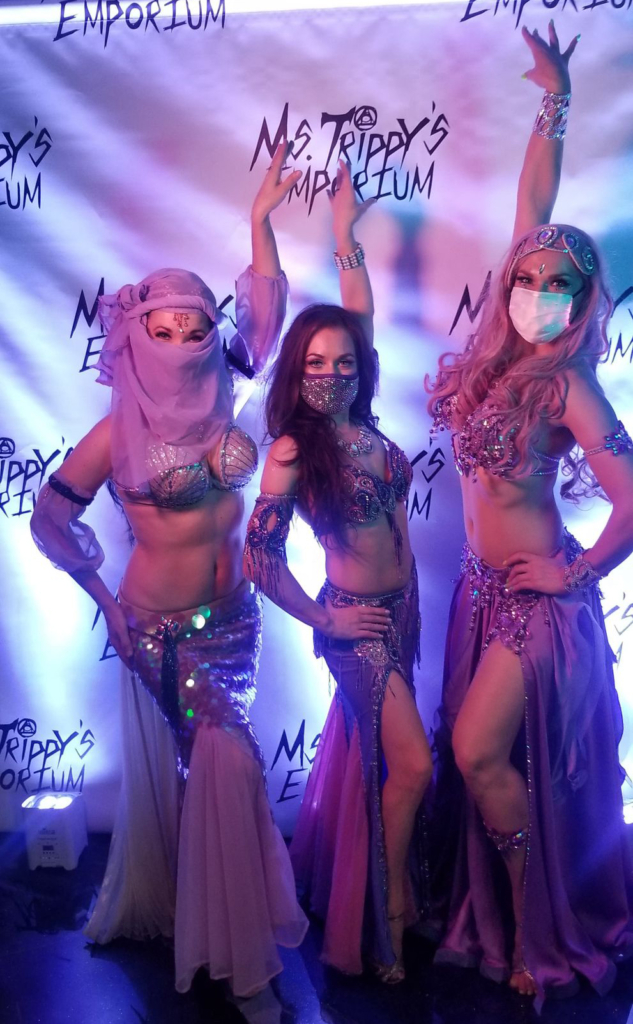 Covid-19 Policies for Orlando Belly Dance Shows
Belly dancers: Making mask mandates look good since 2020.
Have you heard the news? I am back open for business and ready to perform at your wedding or special event! If you're willing and able to give me my space (6′ to be exact) and if you're open to my masked and mysterious "new look," you can have the SAFE and fabulous entertainment that you and your guests deserve! From payment to audience participation, here's just a brief rundown of my Covid-19 policies and what you can expect from my current style of performance. (Spoiler Alert: You WON'T miss out on the fun!)
Payment: I strongly encourage contact-free methods of payment (PayPal, Venmo, Zelle, or credit card) for both the $100 deposit and the balance. You can also use these forms of payment to add a tip. Or if you expect your guests to leave lots of tips, you may leave out a basket, as traditional money showers and body tipping are off-limits until further notice.
Music: We will discuss your sound system or DJ arrangements prior to the event. In order to minimize contact, I recommend that I email you or your DJ my playlist or the mp3's prior to my performance so you/they can upload the tracks and have them ready to go.
Day Of: I will show up to your event wearing a mask and text you when I arrive so you can greet me and sneak me in, preferably through the back door or an entrance furthest away from the crowd. With music and payment already handled, I will only need to change into costume and wait to perform.
Additional Covid-19 FAQ's
Will you wear a mask during your show?  
Like the Mandalorian, I never remove my mask. (This is the way!) With mask mandates in effect in most counties where I perform, I will accessorize my costumes with blinged-out, fabulous face coverings until the vaccine is fully rolled out and the mandates are lifted. From harem-style face veils to rhinestone-encrusted or LED masks, there are so many ways to integrate stylish PPE into belly dance attire and make it look like part of the costume and not plain clinical garb.
What are your requirements for your performance space? How big of a space do you need?
Per CDC guidelines, I will require at least 6′ of distance from your guests at all times throughout my performance. An ideal performance space would be either outdoors or a venue with a designated stage or parquet dance floor away from the crowd. Performance spaces must be discussed and approved before booking, and any changes must be discussed and approved in advance ASAP.
Do you have any restrictions on event size? 
I don't currently have any restrictions on group size for most weddings and events. Your typical wedding of up to around 150 guests can be done pretty comfortably as long as there's enough room for social distancing.
Are you still doing audience participation? How will you incorporate social distancing into this part of your show? 
Yes, my shows still include audience participation, and yes, socially distant audience participation can still be fun! With enough space and a few small adjustments to my performance style, we can still keep the show totally interactive. Guests are welcome to gather around the edge of my performance space and I encourage everyone to dance, clap along with the music, and interact with the show. If I pull guests up to dance, we'll do it one or two at a time. The thing that's really chanced is that we can't pack the dance floor like we used to do.
What if my guests don't want to get up and dance due to COVID concerns? 
I can assure you this is completely normal! Many of my clients are requesting "dinner and a show." A performance during the seated portion of your event allows guests to sit back and enjoy the exotic atmosphere without feeling pressured to join in on the show. If this type of performance appeals to you, please let me know so I can tailor my music playlist accordingly.
What if I need to cancel or reschedule my event due to Covid-19?
Unfortunately, my deposits are non-refundable at this time. (For more information, refer to the Force Majeure clause in my contract). If you reschedule or postpone your event, we will apply your deposit to your new event date and I will make every possible effort to be there with you or find you a qualified replacement if I'm not available.
Are there any types of events you DON'T do right now? 
As the Covid-19 situation changes, I am evaluating every booking on a case-specific basis. Unfortunately, this means being ultra-selective and turning down certain types of events where the risk of exposure is too high, such as:
Restaurants, nightclubs and hookah lounges
Very large gatherings (conventions, festivals, super-sized 500-guest weddings, etc.)
Atmospheric Entertainment (bookings with a strong emphasis on strolling entertainment, photo ops and audience meet-and-greet).
House parties with lots of guests packed into a tiny space. (Groups of less than 15 or outdoor parties are OK!)
Most other dancers aren't wearing masks. What's with all these restrictions?
We are still under a mask mandate in most counties where I perform, including Orange and Seminole County. Violators can be fined, lose their business license, and be blacklisted by wedding venues. Unfortunately, some dancers ignore local mandates because they don't like the look and feel of masks, or because they think they'll lose jobs by having too many restrictions. Just because some belly dancers break the rules doesn't mean this is an industry standard or something you should expect at your event. If masks and social distancing will be a dealbreaker for you, I'd recommend that you hire another performer. Or better yet, give me a call for a future event when all this is behind us!